Oxford cloth, poplin, linen, flannel. Maybe even corduroy if you've really got your finger on the pulse. These tend to be the go-to fabrics when we find ourselves in the market for a new shirt, and unless you're a cattle rancher from the late 19th century, suede probably doesn't even cross your mind.
It may be more commonly used for footwear and that waistcoat your weird uncle always wears, but it's a mistake to rule suede out when it comes to shirting. This soft, tactile fabric is easy on the eye, pleasing to the touch, excellent at holding colour, and can really add a dash of depth and texture to an otherwise unnoteworthy outfit.
Trouble is, good suede shirts are hard to come by and even trickier to style. Taking sartorial cues from the wild west and pulling it off is always going to be a tall order. However, with a little guidance and the right labels at your disposal, there's no reason not to lasso yourself one of these frontier favourites.
HOW TO WEAR A SUEDE SHIRT
For all its plus points, suede isn't the sort of material you want right next to your skin. It's heavy, terrible at allowing moisture to escape and can become stiff and awkward when damp. For these reasons, it's best suited for use as an overshirt. Particularly in the autumn and winter months.
That's fine, though, because that's what a suede shirt is best at; it's a born layering piece. Throw it over a T-shirt, another shirt, or perhaps a hoodie. Wear it open or closed, under a winter coat, or on top as a standalone piece. Wear it any which way you see fit, but always, always, team it up with some sort of base layer.
An additional caveat when it comes to wearing suede is to steer clear of too much texture. Suede is a complex fabric with a lot of tones and plenty of depth. It shouldn't be fighting anything else with those characteristics for attention. A pair of corduroy trousers or a shearling jacket, for example.
That's not to say that tactile fabrics are off the menu altogether, though. Just make sure they offer enough contrast. A rough, wool coat or some heavy gauge knitwear, for example can work to balance out the smoothness and softness of the suede, accentuating its presence within a look.
Legwear-wise, we'd opt for either dark indigo denim jeans or cropped wool trousers. The former if you're thinking casual, and the latter if you want to be a little bit more dressed up. Top it off with either canvas sneakers or black Derby shoes respectively.
WEAR IT WITH: THE BEST BRANDS FOR SUEDE SHIRTS
The Swedes can always be counted on for a tasteful overshirt or two and Arket is a prime example. The H&M-owned store has only been on the scene for a couple of years, but has already established itself as the go-to spot on the high street for stylish, stripped-back shirt jackets. Even suede ones.
If there was a pyramid hierarchy of high-street shops, Reiss would be sitting right at the very top. It's a bit more expensive than your Zaras and Uniqlo's, but that's reflected in the quality. Premium materials like suede and leather feature heavily in the label's output, while sleek styling and fitted cuts provide the brand with its signature look.
Considering that the "NN" in NN07 stands for "no nationality" we feel a tad shady for blowing its cover and revealing that the label is, in fact, from Denmark. Still, if you know your Scandinavian menswear, you'll know that the Danes are all about mixing classic and contemporary, and filtering it all through that trademark minimalist lens. Expect versatile, simplistic pieces, updated with the odd modern twist.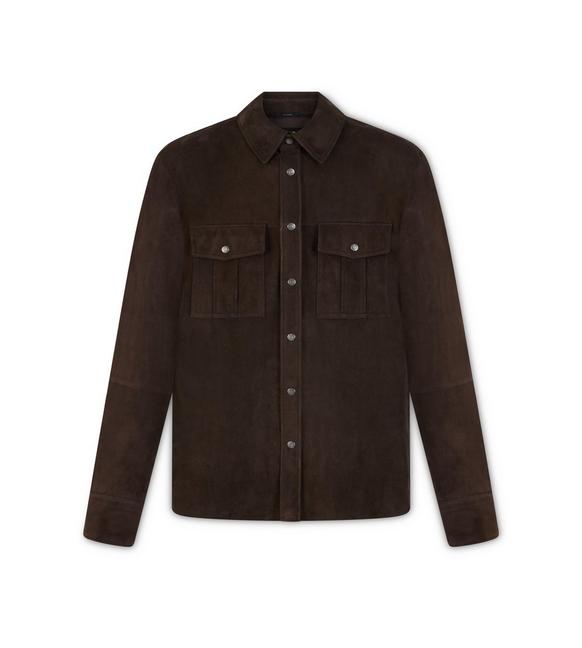 If money were no object, we'd all be walking around dripping head to toe in Tom Ford. The reality is, sadly, that very few of us can afford too. Still, if you're lucky enough to be blessed with a six-figure salary, there are few designers better equipped to deliver the goods when it comes to sourcing the perfect – and we mean perfect – suede shirt.
We've never been lucky enough to take a sneak peek inside Mr Ralph Lauren's wardrobe, but we'd hazard a guess that there are more than a just a handful of suede shirts hanging up in there. This classic American throwback piece is emblematic of Ralph Lauren as a brand and everything it does so well. It's smart yet casual, eye-catching yet subtle, premium yet laid back. A lot of money, but most definitely worth the investment.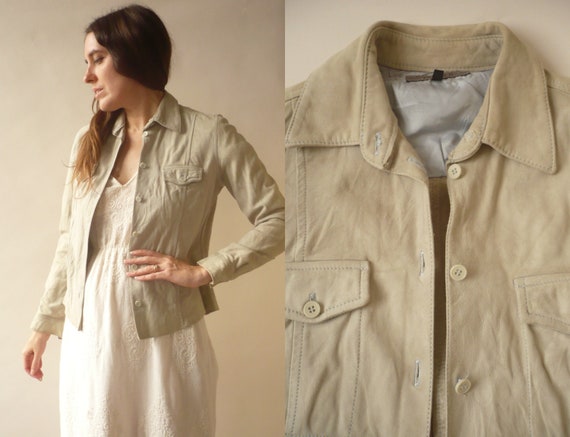 Premium British high-street brand Jaeger has been around since the late 1800s, but probably isn't the first place on your shopping list unless you're a 75-year-old woman from Hampstead. You'd do well to cast your preconceptions aside, though, because the traditionally 'twinset-and-pearls' type label actually makes some highly serviceable contemporary menswear, with high-quality suede shirts being no exception.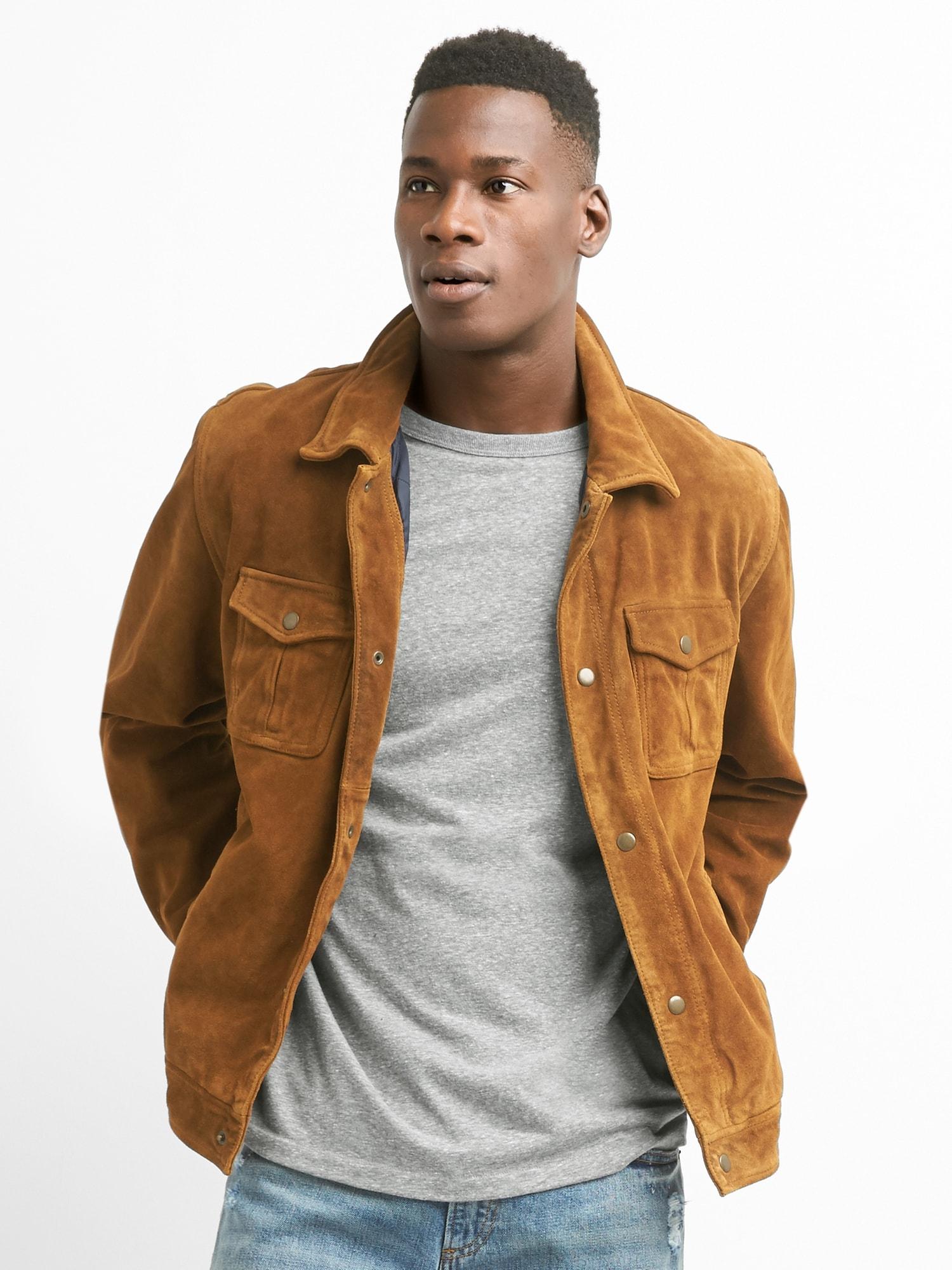 It may have peaked in the '90s, but American mainstay Gap is still making some of the finest wardrobe staples on the high street, and at prices that won't leave a hole in your pocket. From affordable selvedge denim to wallet-friendly suede shirts, this is ageless casualwear that's built to last. See? It's not all logo hoodies and bright yellow capri pants after all.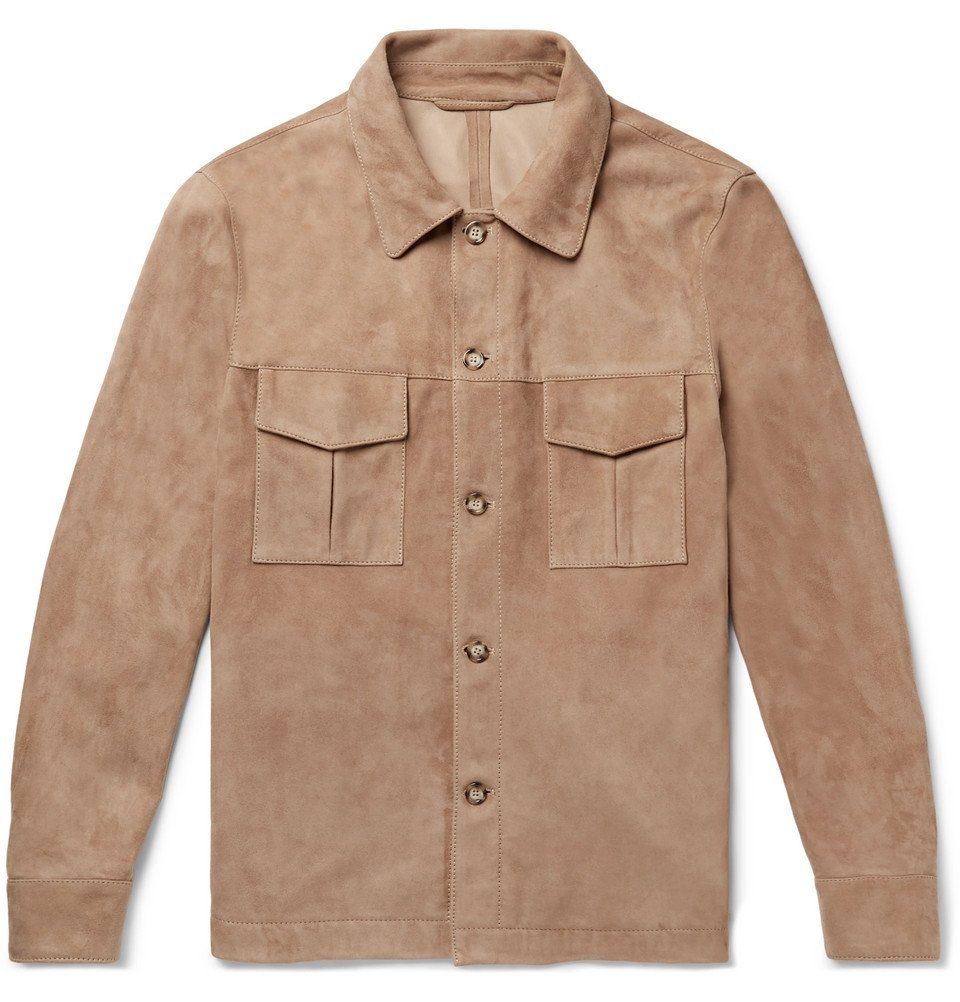 Best known for its sporty take on the classic A-1 flight jacket, Valstar is an Italian brand with a pedigree in producing luxurious outerwear and shirting. Couple this with the fact that suede has long been one of the label's signature fabrics and, well, you can see where this is going. Expect simple styling, exceptional materials and craftsmanship, and price points to match.