It's difficult to think of anyone item of clothing that has had quite as colourful a history as the humble hoodie. Over the past century, this sportswear staple has gone from playing field to the runway, stopping off at every conceivable urban subculture along the way. It's been name-checked by prime ministers, designers and screeching Daily Mail editorials, and has even been banned in some parts of the western world for brief periods of time, all thanks to its street associations.
It's come a long way since Champion invented it for its laborers. Today, the best hoodies for men are enjoying a golden era of acceptance. Just as with Elvis, denim jeans, electronic music and all other aspects of youth culture that initially made grown-ups nervous, everyone has now calmed down and said a collective, "You know what? Maybe a sweatshirt with a hood on the back isn't inherently evil after all."
About time too, because cool hoodies are truly a wonder garment. They're functional, comfortable and stylish in equal measures. And now, thanks to fashion's ongoing steamy love affair with streetwear, it's also banging on-trend.
"The hoodie epitomizes streetwear," says fashion designer Gordon Richardson, former creative director of Topman. "What began as a trend in the 1990s has developed into a global phenomenon because of its versatility and comfort." There aren't many items of menswear that work for a hungover afternoon of Netflix, streetwear stunting, a hobble back home from the gym and an athleisure-ly stroll around the city. But the hoodie has you covered for all of them, and even smarter outfits, too.
"As the hoodie has become a wardrobe staple, big brands are listening to their market. Guys aren't afraid to splash the cash on designer sportswear now, and mixing track tops or joggers with tailoring has become a trend in recent years," says Richardson.
In a hurry? Check out our top picks for the best hoodies for men, or keep scrolling to read more.
This men's hoodie is next level with the highest quality cotton construction, dropped shoulders, ribbed edges and a slightly oversized fit.
Unrecorded Organic Cotton Hoodie
Kick back in style with this heavyweight, organic cotton hoodie from Unrecorded. With 9 color options and cozy terry knit fabric, this everyday hoodie is a wardrobe essential.
Off-White Caravaggio Hoodie
If you're searching for a luxury hoodie served with a side of clout, this new season Off-White Caravaggio print sweatshirt fits the bill to a tee.
Based on timeless designs and ethical practices, Unrecorded makes simple, yet sleek clothing with an emphasis on sustainability. Crafted from 100% organic, heavyweight cotton, don't be surprised if this hoodie is your new chilly weather go-to. And since it comes in nine colors, don't be surprised if you find yourself going back for another… and another.
POLO RALPH LAUREN Mélange Jersey Zip-Up Hoodie
Ralph Lauren doesn't just do preppy Americana better that most other brands, the man practically invented it. The brand's hoodies are smart and stripped back with nothing more than the famous embroidered pony for embellishment. Comfortable and versatile, you can slip these hoodies under a denim jacket or unstructured blazer.
Some off the best brands to buy hoodies from
Few brands have the sporting heritage that Nike can shout about so its sweats and gym wear have more authenticity than most. The famous swoosh is almost always present in melange or loopback cotton for maximum comfort. A fine top-layer above jeans or joggers, they will also slip very nicely under a biker, trucker or bomber jacket.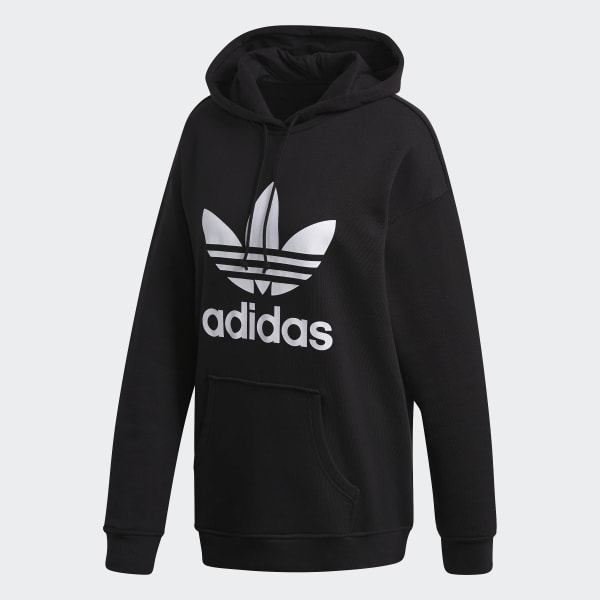 Like Nike's, Adidas' hoodies for men benefit from decades of sporting design and instantly recognizable branding. Whether you go opt for the brand's famous three stripes or trefoil motif, you're wearing a classic. The brand does pretty much every style of hoodie imaginable, from pouch pockets to zip-ups, oversized to longline. They're all great.
Heritage American sportswear label Champion has been doing the hoodie thing for longer than pretty much anyone else. It's produced kits for the NFL, the NBA and the US Olympic basketball team. In a crowded market, this is an undisputed MVP brand. Champion is well-known for its patented 'reverse-weave' cotton, which uses unique fabric construction and panelled side inserts to eliminate the risk of shrinkage. Needless to say, its hoodies are some of the best around.
When it comes to cool streetwear hoodies, why look further than one of the leaders in the game? Stussy is one of the oldest names in the business and widely credited with starting the scene pretty much single-handedly with styles designed for skaters and surfers alike. The hoodie is one of Shawn Stussy's eponymous brand's staple items, appearing season after season since day one. Expect bold branding, bright colors, contemporary styling and street cred in abundance.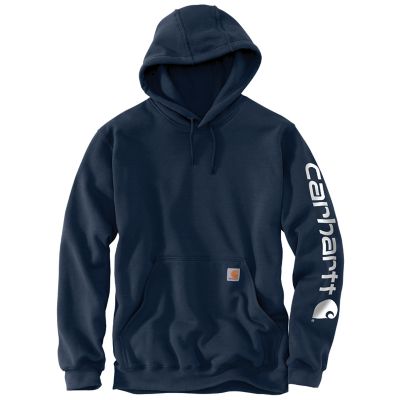 American heritage workwear label Carhartt has a long-standing reputation for wearability and ruggedness, but in recent years, especially with the introduction of its 'Work in Progress' line, it's become known for its streetwear styling too. Those combined factors make it one of the best options for finding a hoodie as hard-wearing as it is stylish. For workwear meets urban cool, nowhere does it better.
Rei Kawakubo's Comme des Garcons has long been known in fashion circles for its forward-thinking approach to design and cutting-edge seasonal collections that push the boundaries of fashion. The label's PLAY line blends these trademark traits with street-friendly styling. A hoodie from CDG PLAY won't come cheap, but it's a timeless piece from an industry-leading label, featuring that now-iconic bug-eyed heart branding.
Virgil Abloh's perma-hyped label is at the forefront of stunting statement streetwear hoodies for men and women alike. It's one of the brands that turned the humble hoodie into a loud, luxury item. In its range, you'll find many of the designer's signature touches – caution-tape stripes up the arm, an oversized fit, asymmetrical cuts and can't-miss screen prints. You'll have to pay a premium, of course, but just think of the Instagram engagement.