THE DISTINCTIVE LOGO ON PSYCHO BUNNY MAKES ITS CLOTHING A SYMBOL OF BOTH QUALITY AND QUIRK
Polo shirts are a dime a dozen in the men's industry, but one brand has built a solid business with a tortoise like approach to the race — and thanks to its slightly maniacal rabbit logo.
Since its founding in 2005, Psycho Bunny has built a $20 million business with its high-quality polos that sport an embroidered logo of a bunny with pink ears and its teeth hanging over skull and crossbones.
Psycho Bunny comes with a unique logo that evokes an emotion, usually a laugh with their offbeat name, and makes you think 'tradition with an edge' — which is very relatable to Bloomingdale's. The price/value is undeniable and the ability to cater to a broad customer base across all regions is unique. There is still a sense of discovery with the brand 12 years later."
So, what's its backstory? Psycho Bunny was the brainstorm of Robert Godley, a U.K. native whose apparel industry background includes Drake's of London and Turnbull & Asser. Godley left school at 16, kicked around as a ski instructor and attended merchant navy college before eventually joining David Evans & Co. Silk Printers in London where he "learned the trade." Within a couple of months, he was traveling the world doing screen-printing for Giorgio Armani, Etro, Kiton, Ralph Lauren and others. He then joined Turnbull & Asser to design its neckwear, followed by Drake's before being lured to the U.S. to serve as creative director of Polo Ralph Lauren.
Those classic polos are built to last, in diamond-knit pique, made in Peru from 100 percent pima cotton. Even casual tees get taped shoulder seams, so their luxe pima cotton holds its shape.
For fall, Morein is expecting premium hoodies, hats, and polos in richer tones; long-sleeve tees and quilted outerwear in French terry, nylon, and fleece; and the return of an old favorite: a sweatshirt adorned with a chenille bunny design, like a varsity logo.
The polo shirt is a hallmark of eternal style. Maybe you own one, or perhaps you own fifty of them. Either way, we promise you don't have one quite like the classic polo from the New York label Psycho Bunny. The uniquely spirited brand has mastered the art of the perfect polo, pushing it to new heights with eye-popping colors and an unconventional logo that is sure to turn some heads. And now, Psycho Bunny has teamed up with Josh Peskowitz, one of the most prominent and instantly recognizable fashion directors and street-style stars in the menswear game today, to show off exactly how the label's polo is unlike any other you've ever worn before.
Psycho Bunny is the brainchild of British fashion designer Robert Godley and American clothier Robert Goldman, both veterans in the men's neckwear industry. What began as a napkin sketch penned by Godley has quickly morphed into an internationally recognized insignia, which is rapidly consuming more and more prime real estate on today's top-of-the-line menswear and fashion accessories. From casual shirts, pants and shorts to scarves, gloves and caps, and even to men's swimwear, underwear, loungewear, bags and wallets – you never know where the sinister-looking rabbit is going to turn up.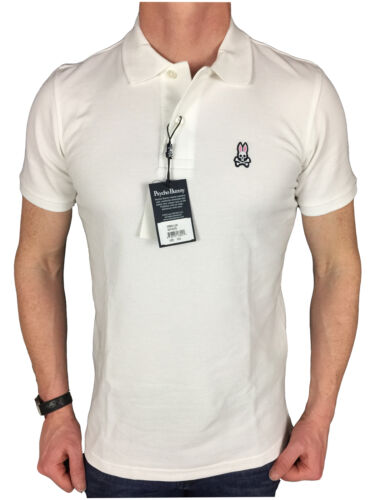 Trying to put my finger on the Psycho Bunny style, images of Sean Connery as James Bond kept popping into my head. The cuffed sleeves and trim fit of the polos evoke a cool retro vibe, yet the fresh colors and whimsical logo give the style a modern edge. A great example is the Woburn polo with its tipped collar and cuffs and larger logo in the unique mineral color.
Those who prefer a more subtle look will gravitate towards the solid navy Chiltern. If you're feeling rebellious, the diva pink Belfry will make people look twice. Trust the color name – my photos don't do justice to its brightness.
All three Psycho Bunny golf polos have similar trim cuts with sleeves that covered my biceps. The fit was form following and reminded me I needed to drop a few pounds in the mid-section. There were some variances in fit, but none of the polos felt tight.
The best fit for me was the 100% polyester diva pink Belfry where the sleeve seam sat perfectly at the start of my arm with just a tad more room overall. The sleeve seam on both the Chiltern (59% cotton, 41% poly) and Woburn (62% cotton, 38% poly) sat a bit more on the shoulder. I performed the suggested measurement for the online size guide and landed on my normal medium, which transposes to a Psycho Bunny size 5. If you like a tailored fit, trust the size chart. If you like a little wiggle room in your shirts, consider going up a size.
What sets Psycho Bunny golf polos apart from the average polos (other than the fantastic logo) is the fabric. Developed in-house, the diamond knit pique has four way stretch that kept the polos from being restrictive during my golf swing. The dimensionality of the fabrics also makes them wonderfully breathable. The fabric blends performed great in both mild and hot spring conditions, but I anticipate the 100% poly Belfry will be the standout performer when the heat and humidity crank up.
Learning that Psycho Bunny co-founder Robert Godley was schooled in bespoke tailoring, it's not surprising that the polos have premium details like taped shoulder seams and mother of pearl buttons. The fabrics have a luxurious look and feel that make them more than appropriate for off course activities. If you appreciate the "made for mischief" motto of the brand and playful logo, check out their graphic tees.