Nothing is worse than sagging pants. And if your trousers aren't tailored to your waist size, you'll struggle to keep them sitting snug and comfortable for the long day ahead.  It's senseless to keep tugging at your pants when you can hold them firmly in place with a pair of suspenders. This timeless accessory never seems to go out of style, likely because without them, we'd have generations of men stuck with only men's belts, for all of eternity.
Luckily, the best suspenders for men have saved men from having to wrap a tight piece of leather around their waist, and have presented a stylish alternative that takes almost any outfit to the next level. All while keeping your pants up.
Whether you want to add definition to your office look or show your true style out on the town, here's the complete gentleman's guide on how to wear suspenders for every occasion.
PICKING THE RIGHT TYPE OF SUSPENDERS
Before we dive into how to wear suspenders, it helps to have an idea about the types of suspenders on offer.
CLIP-ON VS. BUTTON-ON SUSPENDERS
Clip-on suspenders attach to your shorts or trousers with clips. The main advantage of these suspenders is their versatility, since you can wear them with almost any pants or trousers.
So, if you prefer casual wear, clip-on suspenders are ideal since they blend well with the best jeans for men, city shorts, and other flashy fashion-forward styles.
To attach clip-on suspenders to your pants, start at the back by clipping them at the middle of the waistband. After that, pull the suspenders over the shoulders to the front before attaching the remaining clips to your front waistband.
Button-on suspenders are common with formal attire and they come with buttons for fastening onto your pants. You can only use button-on suspenders with jeans or trousers that feature six buttons hidden along the waistband. The suspenders then button onto these loops.
If your trousers don't come with the buttons, you can always add them. To wear button-on suspenders, you also need to start from the back before you wear the trousers.
After buttoning them on, pull on your trousers before looping the remaining buttons of the suspenders to the front waistband.
Y-BACK VS. X-BACK SUSPENDERS
Aside from the different fastenings, suspenders will form either an X or Y shape at the back.
With the X shape suspender, the straps meet in the middle of your back, where they cross before meeting at the opposite end at the back of your pants. Typically, X shape suspenders meet at two points at the back of your pants.
Thus, you need to clip the suspender to the pants in four different spots (two at the back and two in front).
With the Y shape suspenders, you'll notice that the straps also meet in the middle of your back, rather than crossing over and wandering to two different points on your pants.
The straps then converge into a single strap before going down your back's center and meeting at a single point on the back of your pants.
When choosing between an X and Y suspender, your main consideration should be each suspender's general style aesthetic.
Y back suspenders are often considered more modern and formal. They're fashion-forward since they utilize buttons rather than clips. However, if you need more support, X suspenders are the more dependable choice.
SKINNY VS. WIDE SUSPENDERS
When choosing how to wear suspenders, width also matters. Even the most subtle change in width can significantly impact your look.
With suspenders, the rule of thumb is: the skinnier a suspender is, the more casual the overall look. Similarly, wider suspenders have a more formal and classic look.
Skinny suspenders can be as thick as 1-inch wide. They elevate casual attire with a touch of elegance and trendiness, ideal for skinnier guys.
It's best to wear these suspenders with jeans, or chinos, with a t-shirt and slim-fitting sweater. You can wear them on date night dinners, night outs, or even with casual office wear.
On the other hand, the brace thickness of wide suspenders can be anything wider than an inch and a half. These are the most classic suspenders and have a dressy and formal look. They're ideal for all types of body frames, from thin to husky and all guys in-between.
You can wear wide suspenders with an Oxford shirt, dress pants, a suit, or even a tuxedo. Thanks to their classy and formal look, you can wear this suspender style to work or cocktail events, fancy fundraisers, formal occasions, and even the red carpet.
HOW TO WEAR SUSPENDERS FOR EVERY OCCASION
If you want to dabble in the world of braces, make sure you know how to wear suspenders for every occasion.
SUSPENDERS FOR FORMAL EVENTS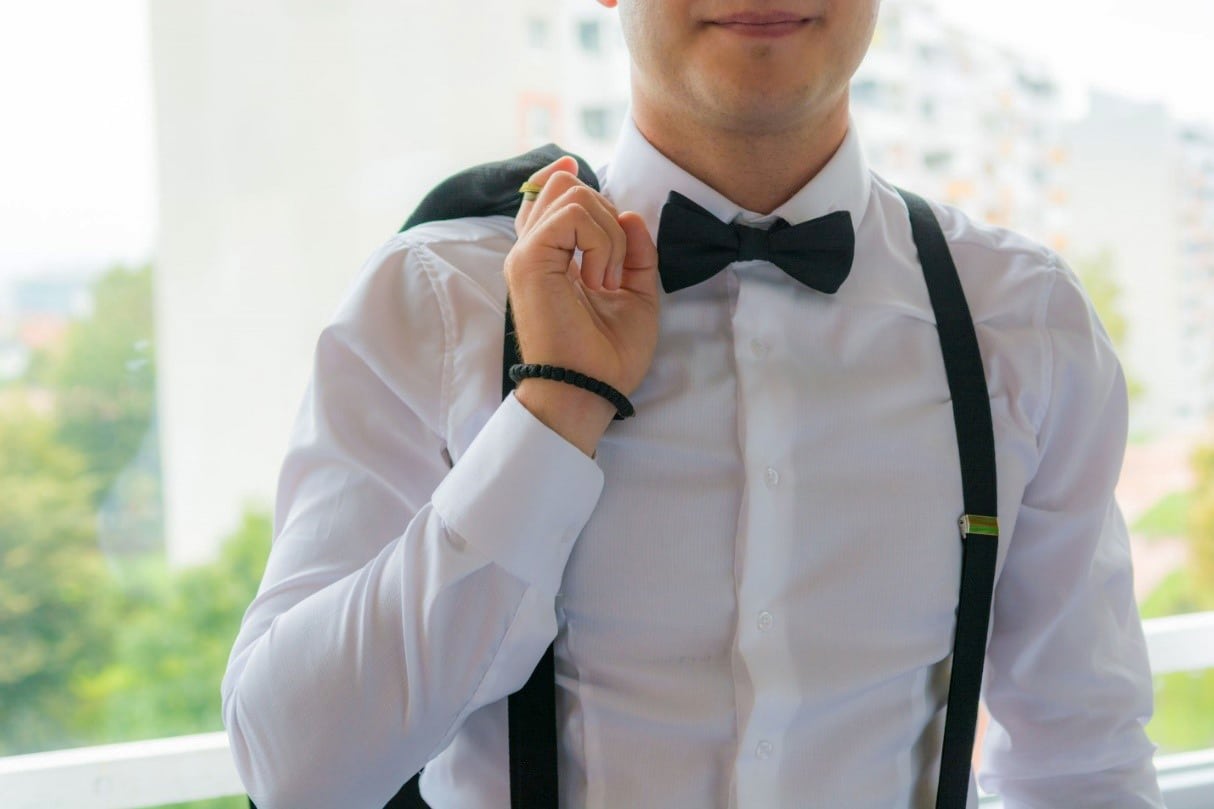 Any fan of suspenders will tell you that they're not only stylish but also the most versatile accessories.
There's no better way to make a bold statement at formal events, like office parties and weddings, than accessorizing your outfit with suspenders.
For formal events, always go for a suspender that matches the theme of the day. For instance, if you're a groom, you'll likely wish to choose suit suspenders that match your bride's shoes, accessories, or even a bouquet.
During black tie dress code and other formal events, wear suspenders that allow for personalization. Consider a pair that subtly features embossed leather details, unique patterns, or even a leather monogram to compliment your outfit for the day.
It's equally important to know how to accessorize suspenders and vests to create a classic and fashionable look. Remember to wear suspenders over the vest unless the dress code at the event forbids it.
When choosing the best suspenders for men, many people always face a dilemma when wearing a cummerbund with suspenders to formal events. It's best to remember that cummerbunds are aesthetic accessories meant to conceal the waistband. Thus, you should ensure it matches the suspenders you choose for the day.
For more laid-back formal events, like cocktail parties and work soirées, suspenders with a bow-tie in the same color can't miss.
The suspenders you choose for work are dependent on your profession and the workplace dress code. If you spend most of your workday outdoors, for instance, you'll certainly want suspenders with sturdy clips that can hold onto heavy work pants and won't snap up when you bend over.
When it comes to an office job, smart casual or business casual probably reigns supreme. That said, leather may not be the best material for suit suspenders because you need something stretchy and a tad more comfortable to survive even the most grueling days.
When choosing suspenders for work, go for something that will leave you feeling comfortable at the end of the day, whether you spend your workday at a desk or outdoors.
Also, consider complimenting your suspenders by matching a slim-cut suits made from fabrics with interesting hues and patterns. This will give you a serious and authoritative, yet stylish look. Matching elements of a suit is an art, but practice makes perfect.