A great pair of jeans can be the foundation of an outfit: Though the jeans themselves may not draw attention, they will elevate whatever else you wear, whether it's a white T-shirt on the weekend or a cashmere sweater for date night. Get jeans wrong—too baggy, overly distressed—and they're all anyone will notice (for all the wrong reasons). After conducting interviews with experts and testing with a panel of diverse bodies, we've narrowed our list to four terrific pairs that are both comfortable and good-looking. For those interested in raw denim (which is stiff and untreated), I also tested and found three hard-wearing and stylish pairs, one of which costs under $100.
Levi's Premium 511 Slim Fit Men's Jeans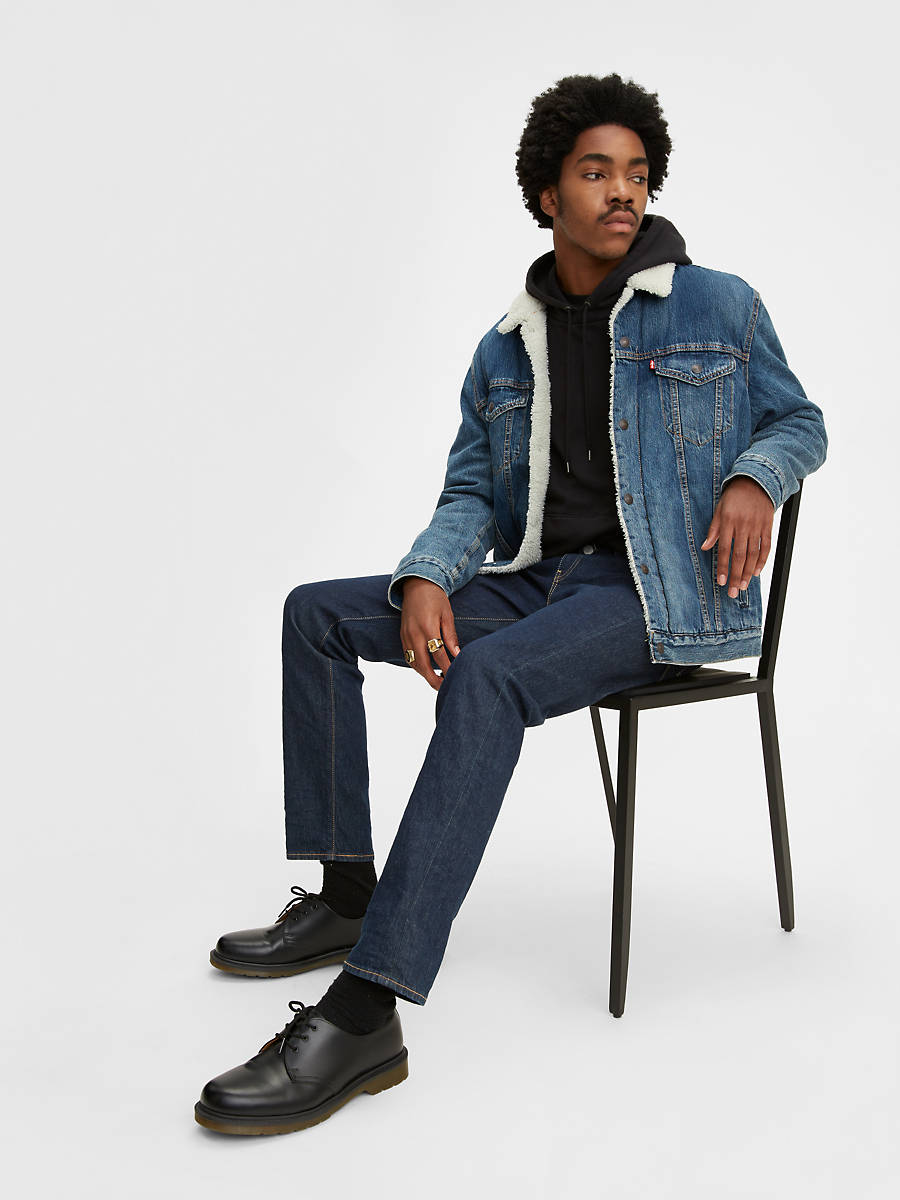 The Levi's 511 jeans are a widely beloved slim straight pair. They offer sturdy construction, stitching, and stretch, alongside a classic American (or, rather, Levi's) look. Well-constructed and with a flattering cut, these close-fitting jeans offer the teensiest bit of stretch to make an already-comfortable pair of pants even more comfortable. Whether because of glossy magazines or billboards on the highway, for many people classic blue jeans look just like Levi's 511 Premium Slim Fit Men's Jeans. These dark-wash jeans sit just under the waist, with trim legs that still let your calves and ankles breathe.
Bonobos Premium Stretch Denim Jeans
Bonobos come in more lengths and waist sizes than any pairs we tested, with a "slim" cut that still has a good amount of stretch in the thighs and glutes (for people with a thicker build). Soft jeans that are more forgiving than others we tested, the Bonobos have enough room for my thick butt and thighs to breathe. Bonobos, which makes our favorite white T-shirt with diverse sizing, has impressed us by making good clothes that come in more sizes than are offered by most other manufacturers. The company's Premium Stretch Denim Jeans are available in waist sizes 28 to 54 and in lengths from 28 to 36—notably more sizes than for any other brand of jeans we found. Bonobos also gets bonus points for providing clearly explained product options. Rather than Levi's 24 listings for one cut of jeans, Bonobos combines all cuts, sizes, and materials into one product page, so you can easily pick what you think will work best for you.
Uniqlo Men Slim-Fit Jeans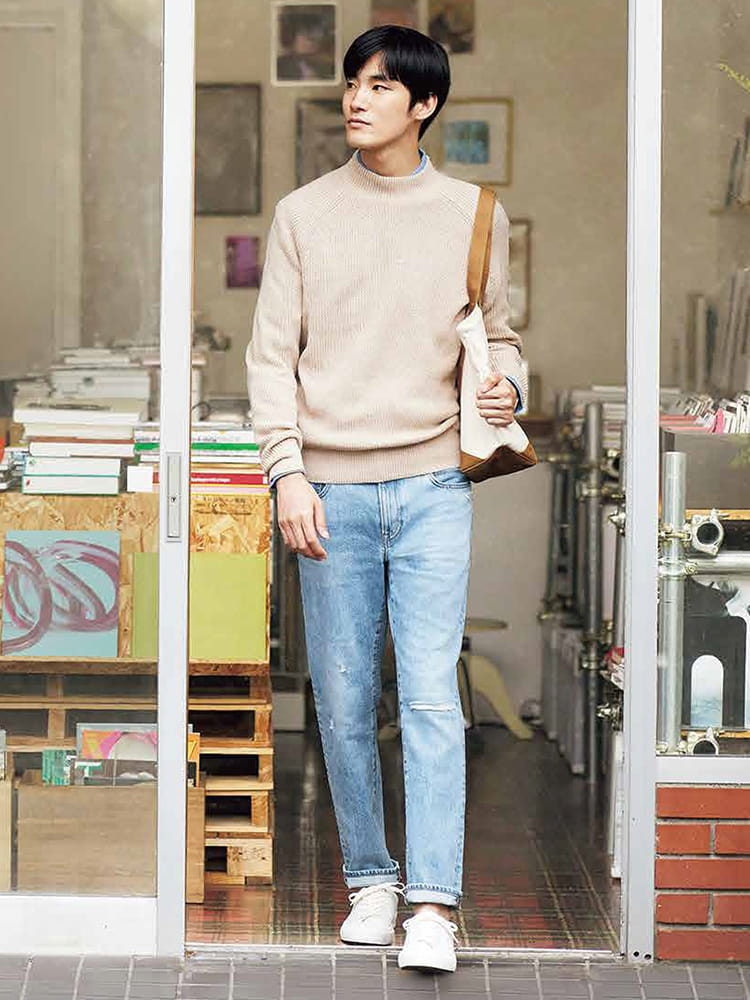 The Uniqlo Slim-Fit Jeans are comfortable and come in a wide range of sizes. But they have a thinner fabric. And though they're stretchy, their shape didn't bounce back as well as that of pricier jeans. These slim jeans are constructed from a thinner fabric than the other jeans we loved, with clean and consistent lines. The Uniqlo jeans are a lot higher quality than other inexpensive jeans options I've seen," Chubstr's Bruce Sturgell said. The Uniqlo Slim-Fit Jeans were a great pair considering the $50 price tag. Not only are they comfortable, but they looked good on all of our testers. And they come in a wide variety of waist sizes, from a 29 to a 48.
Buck Mason Ford Standard Jeans
The Ford Standard's heavier denim and button fly separate these jeans from others. They are also more solidly constructed, and our testers noted their comfort and good looks. These jeans are durable, long-lasting, and heavy-duty—but without being rough or uncomfortable. Sure, they probably won't last forever, but they feel like they might.
Sometimes a pair of classic Levi's isn't enough. When you need a heavier pair of denim to keep you company, try Buck Mason's Ford Standard Jeans. Buck Mason makes this exceptional pair of jeans with a heavyweight denim that felt durable, without being coarse or rough. The Ford jeans were the most highly praised pair we reviewed during panel testing. Everyone loved wearing them.
Unbranded Brand UB101 Skinny Fit 14.5 oz Indigo Selvedge Denim
The Unbranded Brand UB101 Skinny Fit jeans are a great, affordable selvedge pair. These jeans have a minimalist look and a substantial feel, and they slowly molded to my body.
Though notably heavy, the Unbranded Brand UB101 Skinny Fit 14.5 oz Indigo Selvedge Denim jeans felt especially comfortable and durable after I broke them in for a month. A short fly made them trickier to button and unbutton quickly.
Of every pair of selvedge jean, we looked at, the Unbranded Brand UB101s were the most affordable, while still being of high quality. I appreciated their minimal, "unbranded" look: They have a blank brown tag on the back, as well as cohesively colored copper tin buttons. One of my editors, Tim Barribeau, said he got his first pair of selvedge denim jeans from the Unbranded Brand, too. These are good jeans at a reasonable price—to help you advance to the first level of raw denim.
The Unbranded Brand jeans I tested were 14½ ounces (common for midweight denim, but heavier than anything else we tested), and I found them and their rope-dried indigo exterior quite substantial and stiff at first. Breaking them in felt unnatural, like I was working against nature. Slowly but surely, though, the jeans began to give. After a few weeks, I started to look forward to putting them on.
Left Field NYC Chelsea Cone Mills 13 oz Denim Jeans
The Left Field NYC Chelsea Cone Mills jeans were light and easy to wear. They have a cut bordering on skinny, though they come in limited sizes. If you're slender, these slim-fitting jeans will suit you best. Their material feels great on the legs, with roomy front pockets that are easy to use.
The Left Field NYC Chelsea Cone Mills 13 oz Denim Jeans were the most expensive selvedge jeans we tested, and for good reason: The stitching was near-perfect, with no loose threads or buttons, and all the hardware felt like it would last for a long time. They were light-feeling on my legs, despite their tough materials, and they're a great, super-slim pair of jeans. Although I didn't find the fit to be perfect for my particular body type (my thighs and butt are perhaps bigger than the ideal customer for this pair of jeans), the Chelsea Cone jeans are great for anyone who's particularly skinny (so much so that they were almost, but not quite, skinny jeans).