Do you love the idea and the look of a denim dress, but you're not sure exactly how to wear one? Don't worry, The Jeans Blog has you covered! There are lots of different variations when it comes to denim dresses, some are tight, buttoned, short, long, slouchy… The list is endless, but there's different ways of wearing each style and it couldn't be easier!
The denim dress was made quite popular by the likes of Alexa Chung actually a few years ago, we kept spotting her out and about in different cuts and fits and she completely rocked them! Then it came to her releasing her own take on the trend with her AG collaboration and everyone has loved them since. Denim dresses have become a statement in their own right! So, how do you wear or style a denim dress? Just keep reading to find out! You can also shop some of the most gorgeous and latest denim dresses online at Topshop, REVOLVE Clothing and Shopbop. They have all the on trend pieces for the current season.
One of the most popular denim dress styles is the shirt dress. Much like the first main photo and the one just above, the shirt dress is a long version of a denim shirt and it can be fitted or slouchy. Some shirt dresses have subtle buttons on the front, much like a button up, but others are slip overs and they come in a variety of washes. What I think is the best way to wear a shirt dress is with heels and bare legs. The contrast of the amount of denim covering your torso combined with the bare legs and extra length is fantastic. It makes you look slimmer, chicer and gorgeous. These two lovely fashion bloggers above are rocking it!
If that's not your thing and you want to wear a denim shirt dress in the cooler weather, or just don't feel comfortable with heels or bare legs, you can always team your shirt dress with some tight-fitting leggings or tights, coupled with either ankle boots or cute flats. This type of styling gives the look a younger and more girly approach, while the other is mature and sexy. Depending on what type of vibe you are going for, either of these denim shirt dress stylings work. You can add a little cross body bag, clutch or tote to this outfit and layer on your jewellery and sunglasses too, just to really vamp it up a notch.
Similar to the denim shirt dress, the denim button front dress is easy to wear. Alexa Chung brought this style back from past decades and made it popular again and I love it. It's a lot of denim to wear because the button front denim dresses are made of thicker denim and they feature long sleeves as well, so you are definitely making a statement and loving the blue fabric to wear one of these. I find the best option for styling dresses like these is with some quirky and preppy flats, much like an elegant brogue or oxford and then layering on a cute cross body bag. It's a great way to wear a dress like this and it makes it look preppy. You can opt for heels if you want, but I would personally choose something like a wedge or a statement ankle boot as you need to keep the look toned down and casual, not too glam.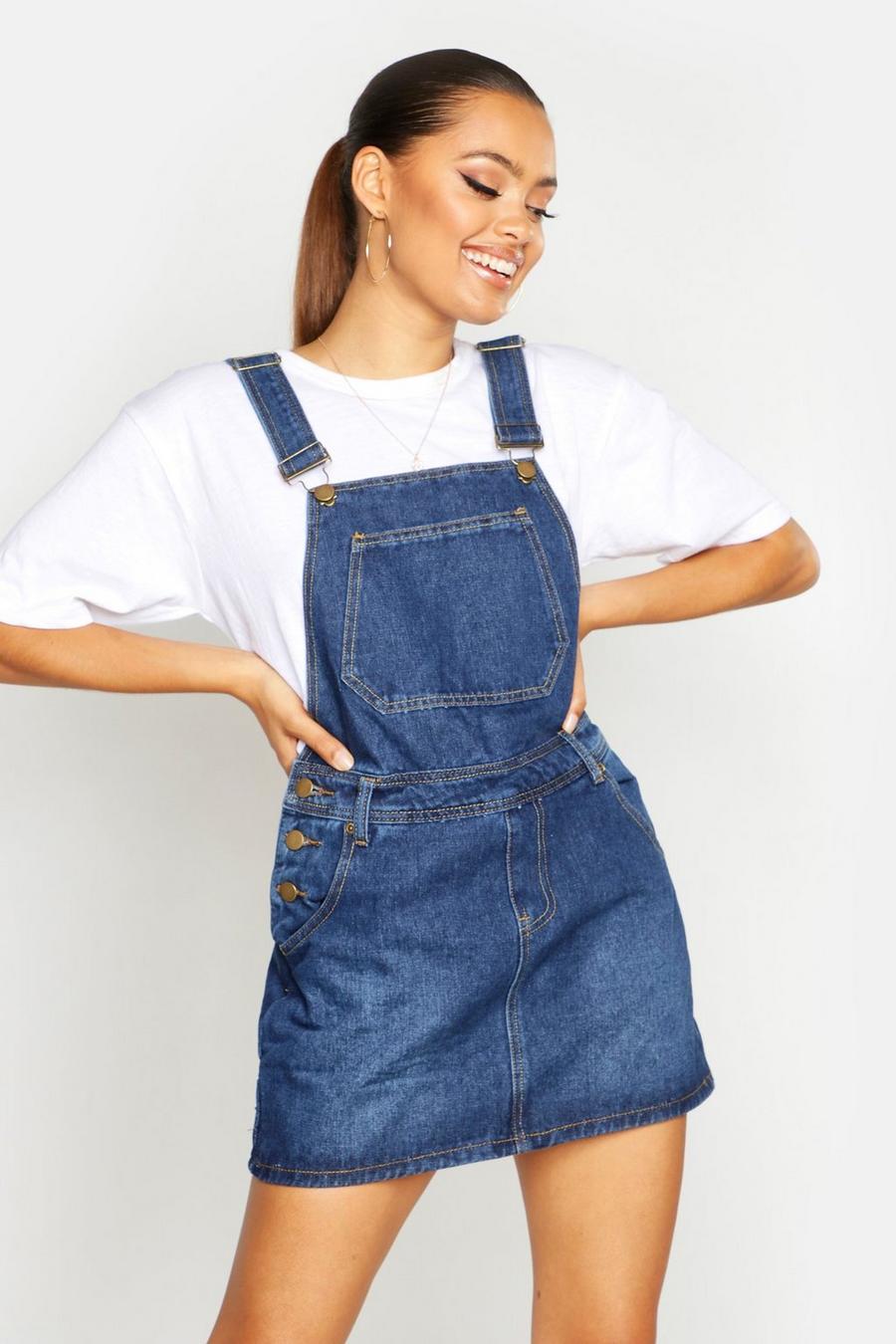 The pinafore denim dress or overalls/dungaree dress is super cute! With a retro feel, these little dresses have definitely come back into fashion with the likes of Urban Outfitters featuring them in their Urban Renewal range or Topshop creating their own take on the trend, but one thing is certain and that's the fact that they are adorable. Pinafore denim dresses give a youthful and innocent edge to your outfit, making them incredibly feminine. The best way to wear a pinafore denim dress is layered over a girly or cute t-shirt or shirt and then teamed with some wedges or flats. Keeping it casual like this is definitely the way to go as you can't really dress up a dungaree style dress to look classy, unless you opted for a black one and went with thigh high boots. The way Alexa and the other fashion blogger wore their overall denim dresses here is so cute! It's preppy, quirky and sweet! You can buy denim dresses like this online at Urban Outfitters.
Chic Denim Bodo Shift Dress
Finally, we have the boho chic denim shift dress. These are very 70's and feature bell sleeves, a tunic style fit and sometimes embroidery to add to the ethnic vibe. These types of denim dresses are great as they work for all weather and seasons! You can easily team them with bare legs and wedges in the Summer, then with knee high boots for the Spring or Autumn and then come Winter, layering a denim shift dress with some skinny jeans or flares with a jacket layered over the top works for that gorgeous double denim look! If you're not sure on how to wear double denim, we have you covered on that too! The denim shift dress or tunic dress definitely is stylish and gives a more mature vibe to the whole denim dress concept, so it can be deemed as fashionable, maybe even the most fashionable, out of the 4 styles listed here.