The nip in the air not only heralds the onset of winter but also the most popular season for tying the knot. With your fashionable bridal ensemble that you have planned to wear on your special day, keeping up pace with the top makeup trends can help you look more gorgeous and stunning than ever! From matte complexions to dewy skin, from a glossy red pout to bare nude lips, standout celebrity weddings are giving out real bridal beauty goals.
Your wedding day isn't the time to be experimenting with looks. Or maybe it is! A call to all our fashion-forward brides who love to stay on trend no matter what, we have come up with some of our best bridal makeup ideas for the winter months from both real and celebrity weddings. Keeping it fresh and natural and celebrating the inner you, this winter bridal makeup looks are brought to play to turn heads on the biggest day of your life. From a no-makeup-makeup look that feels fresh and light to a glittery and bold statement-making bridal makeup look, here are some of our favorite bridal beauty looks to share with your makeup artist.
Our favorite makeup trends 2021 for winter brides:
Probably one of the favorite makeup trends over the years for minimalist brides who love everything natural, opting for dewy and flawless-looking skin has been a thing for a while. It is very natural to have dry skin and messy hair during the winter months, and scheduling your bridal makeup during the winter months can make your skin look chapped and dry. So going for an earth-toned eyeshadow and a nude lip color, paired with easy waves is a fast-pass to making sure you walk down the aisle as the best version of yourself, with an extra dose of polish. Moisturizing formulas as part of your pre-bridal regime can give you a naturally dewy finish and a healthy glow even before the big day's makeup.
Subtle is so last year! The holidays to glitter are like peanut butter to jelly! Call it a toast to the holiday season or a bright splash of colors to beat the moody and dark tones of winter, colourful eyeliners have been all over Instagram! Brides who are looking for new makeup trends, take notes. Colourful shades of mascara have become the latest winter makeup trends 2021 and fashion-forward brides are expected to paint their eyes with mascaras belonging to almost every shade under the blue sky to match with their trending bridal looks in 2021.
Let us be very honest with ourselves, we love everything about the 90s! Learning from the nostalgic beauty trends that brought us a sense of comfort, we are expecting to see the '90s tightline eyeliner look. Probably the best winter makeup trends you'll love to see, opting for the '90s makeup trends can be a true bridal makeup goal! After celebrities like Bella Hadid were spotted wearing the '90s tightline eyeliner look, the entire fashion industry is tilting towards this hottest beauty trend. It is also a no-brainer wedding makeup that is loved by DIY brides as it creates an illusion of a fuller lash line.
The cherry-red bridal look
Another one of the winter makeups trends you'll love, there is always room to incorporate a bold and bright red lipstick especially when the rest of the bridal look remains neutral and earth-toned hues. Brides who brave the red lip color-matching with saturated notes continue to be our signature favorite. When hosting a winter wedding, wearing a cherry red lip color can be the ultimate pop against the bright white gown. The barely-there makeup with a touch of blush, natural eyeshadow and mascara looks best with this trending makeup. A bold ruby red lipstick ensures the bride is the star of the show, always!
Speaking of gorgeous subdued colors, one of the biggest hits of fall-winter makeup trends 2021 is the rise of monochromatic makeup. Probably the most glamorous wedding details to flash on your wedding day do not need to be bold and shimmery. When it comes to stealing the key moments, like the aisle and the red carpet, monochromatic bridal makeup is the queen! A matte peachy complexion with eyes, lips, pulled from the color palette belonging to peachy neutrals, lavenders, violets, and deep purple can be paired with a subtly '60s winged liner. Perfect for the cold weather season wedding, coordinating a diffused wing, brushed-up brows, and a subtle hint of shimmer on the eyes give it that 2021 twist so it doesn't feel like a costume.
Much more than applying smoky eyes as part of your teenage beauty regime, moody bridal makeup is the best thing that happened to eye makeup trends winters! Featuring deep mauves and rusts, a moody bridal makeup guide can give a natural feel without taking away the edge of a smoky eye and a nude lip. While one can gravitate towards bright pinks and poppy corals during the spring and summertime, as winter is for celebrating the bucolic and gothic color palettes that look straight out of a Tim Burton movie! Color palettes consisting of deep berry, rich wine, or autumnal orange along with metallics will make a bright look fresh beneath the veil and define the facial features more than tones that catch the light. Moody color combinations are the classic winter wedding inspirations whether it is makeup or wedding details.
Probably one of the most loved makeup trends through the years, having smoky makeup can create the most dramatic bridal look ever! Also, one of the most versatile bridal makeup trends this season for winter weddings – highlighted and bronzed cheeks, glossy nude lips, and a smudgy black liner is for every bride who isn't afraid to be a little dramatic and sultry. The smudgy and hazy effect that it creates is equally cool, edgy, glam, and classic all at the same time which makes it the most versatile wedding makeup ever. The best part is you can induce your own color palette and make it your own version- from inducing a royal wedding look to looking like a girl next door, you can be who you want with a glamorous smoky bridal look. It's got the smudginess of a grungy look, but the shimmer and drama of full glam, making it the best of both worlds.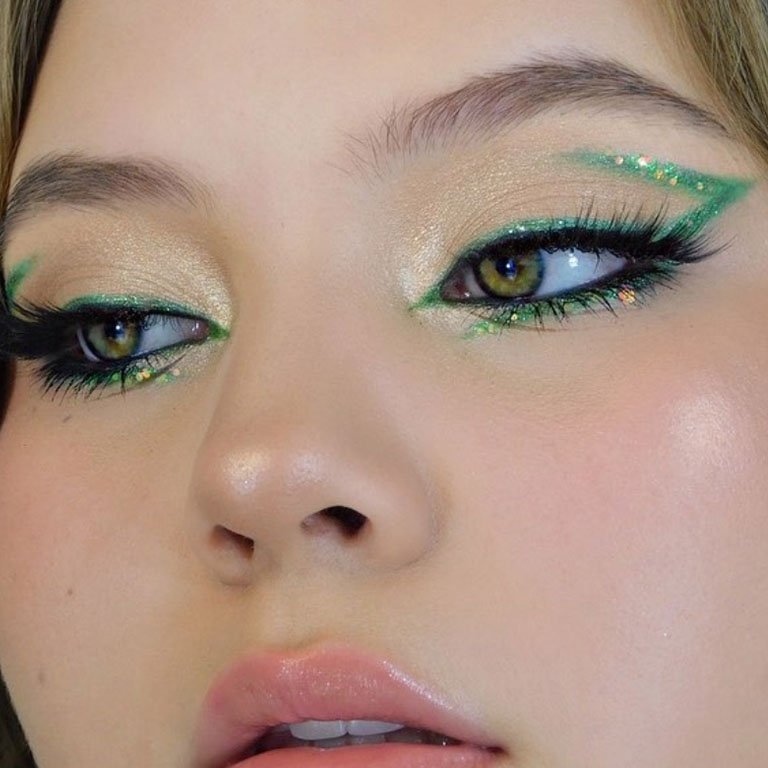 Talking about being mod and current and staying in tandem with up-to-date makeup trends, one cannot hide from the glittery dose of bridal white with a '60s flair where a bride layers a pearlescent white liner atop a classic black winged liner for a look that opens up the eye. Your holiday wedding will be completed with you being the show stopper with this little sparkle as you transform your eyelids into a little festive party decoration with a swipe of chunky glitter. Leaving the rest of the face simple and letting the eyes shine is one of the hottest makeup trends now! When it comes to statement eyeliner, giving your eyes a soft feathery effect without going too dark with the mascara can make you look sensuous on your wedding day. Getting a bold highlight and forgetting the natural glow can make your face pop!
When in doubt, go golden. Gold is a wintertime beauty staple that never gets old. For a subtle glam look, swap out warm browns for a beautiful gold shade. A cascading wash of soft metallic from your cheekbones to your eyelids can be the ultimate look for your New Year's Eve wedding! Especially if you are well wearing golden bridal jewelry, nothing will say holiday season like matching jewelry to your face! One of our favorite autumn-winter makeup trends, keeping the rest of the look simple and clean while the smudginess of a golden glow is ready to create all the shimmer and drama can look show-stopping, especially with an ethereal and sleek wedding gown.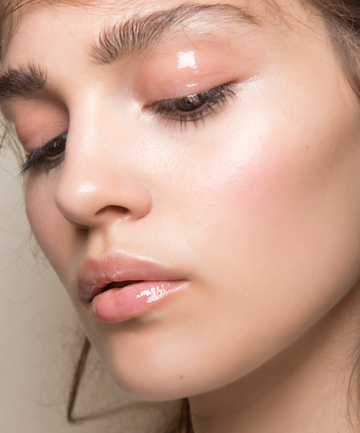 There's no such thing as too much moisture, especially when it comes to battling the high and lows of wintery weather. Without looking too oily and smudged, expertly placed highlighter can be the perfect daytime winter makeup trend to wear on your wedding day. Switch out your finishing powder for a mist, and your skin will seriously thank you. The glossy eyeshadow palettes are becoming a big hit and just because you're wearing a face mask doesn't mean you need to skip out on this winter makeup trend on your wedding day. It will also not dull the glow of your pre-wedding facials.
Wedding white and fresh face makeup
Not every winter makeup trend of 2021 will require you to go for super bold details! Soft and fresh-faced looks featuring a note lip color and rosy cheeks are also becoming signature winter wedding looks. Think about mascara, neutral eyeshadow, warm blush, and a pink lip for mirroring an ivory tone without screaming for too much attention.  The more you blend out the pigment with a fluffy makeup brush, the softer and more diffused the finish, so spend some time with this one.
From the festive cheer of the upcoming holiday season to the cozy winter bridal outfit accessories and all the nights of endless parties, we love everything about winter weddings! Trying the cool winter makeup trends and pairing them with your classic bridal look can make you feel like the queen you are on the biggest day of your life. Unlike summer where all the makeup will turn into sweat sliding off your face and carefully coiffed bridal hairdo turns into a hot mess, winter makeup trends for brides can have her steal the show and rock the trendy bridal look without worrying about it turning into mayhem! So take your pick from these biggest winter makeup highlights of 2021 and rock the biggest day of your life like a true showstopper.