Rain on your wedding day is not something that you dream about, but if you choose a wedding date in spring and summer, encountering the rain on your wedding day is something that you should consider as a very real possibility. While some would say rainy days are quite the damper to your big and fabulous wedding plans, sometimes the misty rainy day at your wedding can add to the romance. The rhythmic pitter-patter of raindrops, nonchalant swooshing of the wind carrying a whiff of earth, and the air of sultry romance are all things that come with the price of a rainy day.
While having a rainy wedding day might not exactly be your plan, there are various big and little things you can do to make your special day ready for the unexpected spring rain showers. This way, when you get a gust of rain as you say your vows, things don't have to be absolutely disastrous, and can in fact be pretty perfect! As dreamy as monsoon weddings sound, taking the right measures to not make it a disaster is an important part of your wedding planning duties and you must take account of it.
Being a monsoon bride means focussing primarily on your comfort as well as the comfort of your guests, which means having tented seating, helping to keep them warm, and offering umbrellas and rain boots to keep them comfortable. While all of those things are very important, today we are here to talk about the bridal ensemble and all the little things you can do to keep your look rain-proof! Remember, style is secondary because if you're irritable and awkward with your ensemble, your expressions will make that evident. Doing these little things can help you stay confident and feel ready for the most important day of your life!
Great things don't always have to come in long sashaying lengths! It can also come in shorter lengths. Getting married in a mini dress is not only stunning, fun, and memorable, it is also so much easier to handle especially on those rainy days! Elopements, mini weddings, at-home nuptials, and virtual weddings swiftly became the norm, forcing bridal fashion to adapt and stay up with the times. While larger celebrations have begun to resurface, these fashion trends have managed to gain favor despite the return to some semblance of normalcy. Jumpsuits and simple slip dresses have been increasingly popular among brides, but our favorite trend so far has been the mini dress. Wearing a mini dress on your special day will ensure that your rainy-day wedding is easy peasy!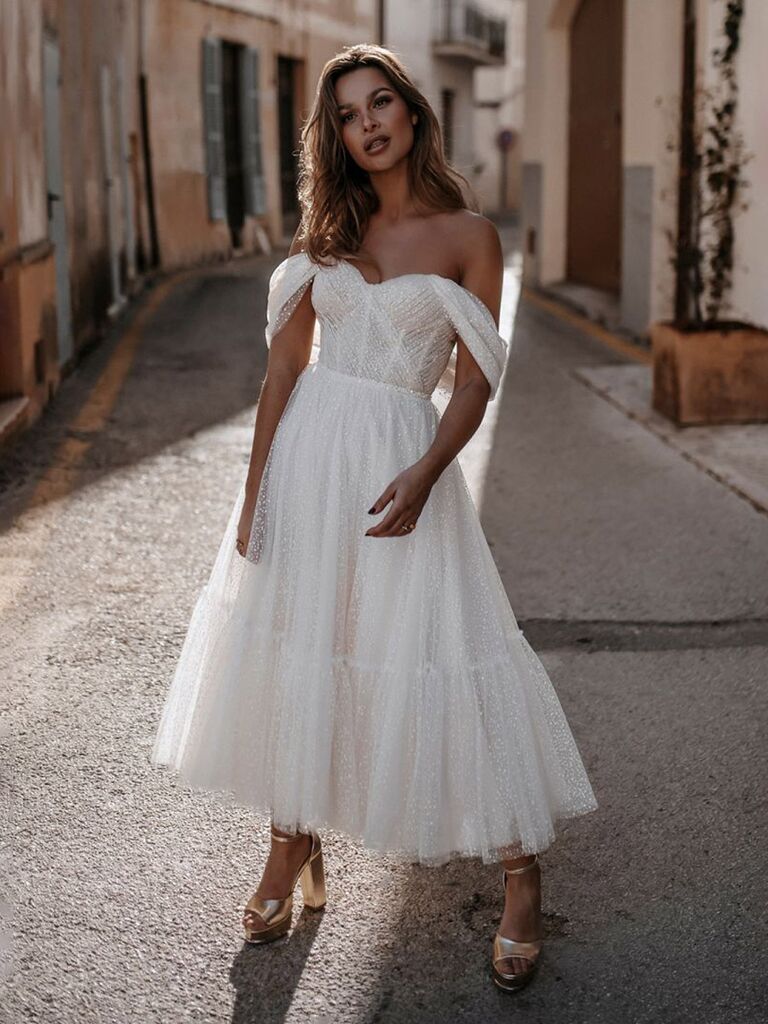 As mentioned above, shorter hemlines are the best picks for a rainy-day wedding and vintage tea-length wedding dresses have a way of winning hearts like no other! Gorgeously elegant and timeless like any other wedding dress, tea-length wedding dresses come with the added element of fun! They are still long enough to be perfectly tier-worthy and are short enough to keep the rain and slush away! Any bride will look stunning in a vintage tea-length gown. This gown is as classic as they come, with long or no sleeves and a length that falls just below the knee or mid-calf. Choose a boatneck or a 3/4 sleeve for a truly classic aesthetic that isn't dated or out of style. With a charming updo, finish the look with a little veil or fascinator.
While pure and pristine whites are synonymous with a wedding dress and will always continue to have our hearts, there is something about a colored wedding dress that adds a spunky stroke of color in the dreary rainy day! Can't you just imagine walking down the aisle on a grey rainy day in a wedding dress that perks up the panorama with its cheery hue! Not only is it gorgeously cheerful and memorable, but it is also incredibly practical. While a white wedding dress comes with the danger of getting stained and damaged, a colored wedding dress relieves you from that stress! We ensure that with a colored wedding dress, there is nothing that a dry cleaning can't resolve!
A bridal petticoat is a gift from the gods above when it comes to a rainy-day wedding. They can easily be purchased or rented. Petticoats come in a variety of styles, including mermaid and trumpet-style wedding gowns, and they are incredibly useful in protecting your gown. They raise the gown's hem to prevent it from dragging on the ground and prove to be a lovely addition to your rainy-day bridal ensemble.
While the decision on whether you want to wear a veil or not is something that is completely up to you, veils and fascinators do come in extremely handy during a rainy wedding day! Of course, this is not the true intention of these accessories, it comes as a happy surprise that a veil or an elaborate fascinator can in fact keep your perfectly made-up face safe from the water! So if you are hosting a rainy day wedding, veils and fascinators are something you might want to consider!
Monsoon weddings are not the season, no matter how much you want to tiptoe in those 5-inch heels! Stilettos are an absolute no-no unless you want to kill your feet or leave holes in the sludge. So, for the final monsoon wedding fashion suggestion, go for Hunter rain boots or fun sneakers, and leave the heels in the corner! Not only will it ensure that you can go about your day with comfort and ease, but it also adds a quirky edge to your ensemble, making your bridal look unforgettable.
While having an umbrella is kind of unavoidable when it comes to a wedding day ensemble, you can very well make it a part of your bridal look by choosing an umbrella that works best with your wedding day vibe! Whether it is a transparent umbrella which is a rave favorite among wedding photographers, or it is a rainbow-colored one, whether it is full of fun patterns or custom monogrammed, the choice is yours, and your umbrella can become the perfect accessory for your look!
EW119021 Dress by Ellie Wilde: Meet Ellie Wilde's lovely emerald green gown, which would be very stunning on your wedding day. It's made in a ball gown style with beaded elements, a deep V-neckline with an illusion panel, and a box pleat skirt with pockets, making it perfect for your rainy-day forest wedding theme. The gorgeous shimmery green will add an unexpected edge to your wedding day vibe, leaving a lasting image!
Celestina Floral Dress by Ronald Joyce
If a long whimsical wedding dress with a garden of flowers in every swish of fabric is more your style, this is exactly the dress that the doctor ordered! Ronald Joyce's tulle Celestina outfit is stunning. Floral embroidery dances throughout the skirt and bodice, assuring that you will be the center of attention. A sweetheart neckline, long skirt, and elegantly embroidered spaghetti straps complete this dress. There's a lot to enjoy about this dress.
Sachin & Babi Archie Dress
We adore a dress that can be worn in two different ways, and this Sachin & Babi creation is no exception. Minimal, no-fuss, and incredibly elegant and sexy, this dress has a shorter hemline and a dramatic bow train that may be simply removed for a more minimalist look. This offers a lot of flexibility to our monsoon brides so that they can have the bow on during the ceremony and have it off during the wedding reception!
Elliatt Pearl Embroidered Mini Dress
Mini dresses for brides are alluring in a totally different way, and we love the 60s take on the trend with dresses. We think it's time to bring back flapper dresses, but with a modern twist, and this strappy mini dress is the perfect example. This is the look for lively and flirty brides, with all-over embroidery and pearl accents. Pair this dress with transparent rain boots and a stylish trench, and it will surely be a renewed fashionable take on the 60s!
Carolina Herrera Heidi Tea Length Dress
Tea-length wedding dresses don't have to be all vintage and 50s inspired! This tea-length wedding gown is modern and feminine, with a plunging neckline, pleated bodice, and heart-shaped appliques. For a super-romantic City Hall look or a sultry rainy day bridal attire, wear it with a pair of pumps or some fun sneakers!
Pronovias Marile Tea Length Wedding Dress
For a spring or summer wedding, this strapless tea-length wedding gown is playful and fresh. With poofy tulle and a gorgeous silhouette, this wedding dress is designed for ultra-feminine brides who like appliques and embroidery. We love how it is still obviously bridal but is practical for a rainy day wedding!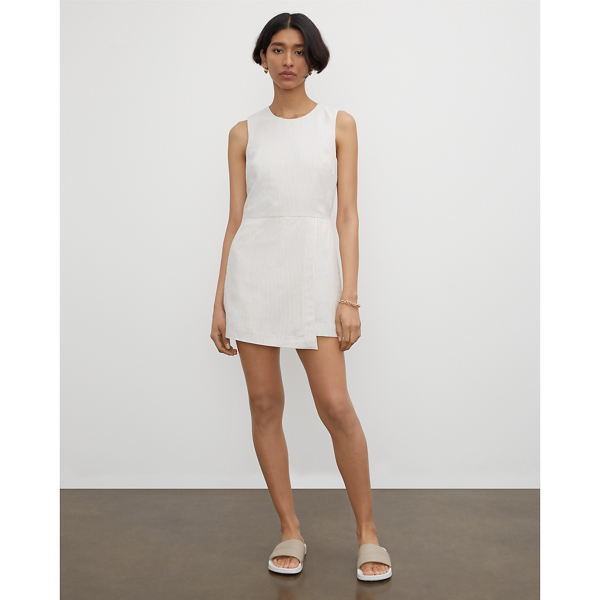 A romper makes perfect sense for a rainy wedding day and looks effortlessly classy too when done right. This basic romper is pared-down to perfection, structured enough to add polish but still speaks to a less typical bridal moment. Walk down the aisle in this number if you're going to a courthouse or a garden wedding.
A rainy wedding day may only be stressful and a "complete disaster" if you allow it to be. It can also wind up being a memorable experience, a fantastic narrative, and a nice time, depending on your perspective! It's all about how you manage the flow of the day, and your wedding guests will follow your lead! A little rain on your wedding day can turn your wedding into a unique tale to tell your future children, friends, and relatives, as it stands out from the sea of weddings out there! So your wedding gown got a little soiled, or your outdoor wedding ceremony had to be rescheduled at the last minute! It provides you with a lifetime of fascinating memories, and isn't that what matters the most? It adds to the excitement and adventure of your love story, and we guarantee you'll like it anyway.