Create a yoga haven at home. From setting up your space to finding the right yoga essentials, this guide has got you covered. Stop and take a deep breath. Practiced around the world for centuries, yoga seems to be more popular than ever. Many turn to this practice to increase their well-being, from relieving stress to increasing flexibility and beyond.
A great thing about yoga is that practicing takes up very little space. This means you can easily practice yoga at home and create your very own sanctuary to unwind and recharge. This is more than welcome at a time where many, due to the pandemic, are embracing and/or are looking to shake up their home workout routine.
Step 1: create your yoga space
Step 2: equip yourself with a yoga mat and some comfy clothing
Step 3: find your favorite online yoga teacher
Step 4: start practicing!
CREATING YOUR YOGA SANCTUARY
1. Where to set up your yoga space
Some take their mats to the park, backyard or the beach (why not?) for outdoor yoga. Others prefer finding a nook in their home. You can move living room furniture out of the way and roll out your mat, or duck out of family life for a few minutes and set up in the basement or bedroom. Carve out some time for yourself before bedtime and start doing poses in your room. You can basically practice anyplace that fits a yoga mat.
2. How to design a peaceful space
Be creative! Don't be afraid to have fun with your space; add candles, plants, diffuse relaxing essential oils, whatever you feel helps create a calming haven. Set up next to a window and let the light pour in, or pull the curtains and dim the lights. Create the atmosphere you want for your practice.
3. How and when to practice yoga at home
This depends on you. Some choose to schedule set times to practice yoga; others practice more spontaneously. With an abundance of free classes available online (including fun one-month challenges), it's easy to choose a teacher and style you like and make it a regular date. Others prefer to build their own sequence of poses/flows.
GET A YOGA MAT AND SOME COMFY CLOTHING
There are many options when it comes to choosing your yoga gear. You might be fine with the comfy clothes you have at home. In lieu of a yoga mat, you can always use a towel, a woven blanket or practice yoga on your rug. If you are, however, interested in learning more about specialized yoga gear, here are a few suggestions.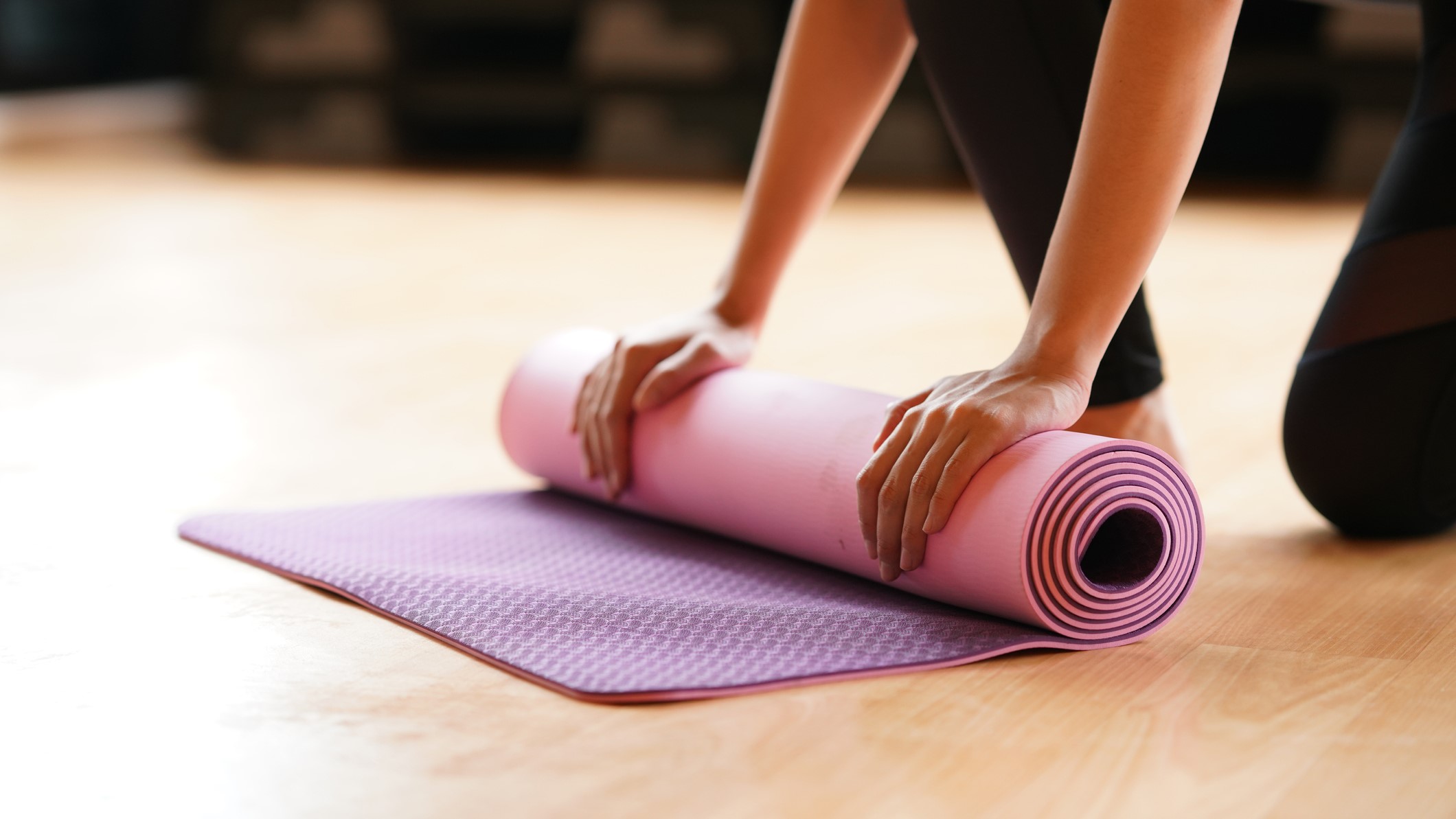 What makes a good yoga mat depends on your needs. Yogis who practice hot yoga or who tend to sweat often prefer grippy mats. Some like a thin mat in order to feel a connection to the ground, while others prefer a more cushioned mat to provide padding for poses that may be hard on the knees. Here are some of our suggestions.
2. A pair of yoga pants (or shorts)
When it comes to finding the right yoga pants (or yoga shorts), the most important criteria is comfort. The fabric must also offer freedom of movement to stretch and move with you when you are pre, during and post yoga at home sessions. Pants made with breathable fabrics will help you stay cool when the heat rises. There are plenty of options available, and beyond function, there are lots of fun styles to choose from.
Here are some of our favorite yoga pants (and shorts!) for women and men.
Pose Yoga Mat + 2-in-1 Strap
This Lole mat offers the best of all worlds: it's a good fit for every type of practice, is reversible, provides a good grip, and is PVC-free.
Essential Studio Mat (4mm)
At barely over a kilo, the Essential Studio Mat by Halfmoon is easy to carry. It's non-toxic, latex-free, and a standard 4mm thickness – perfect for almost any kind of yoga, from restorative to vinyasa.
Clean Elevation Legging – Women's
Vuori brings you a clean look and feel in the Clean Elevation Legging. They conform to your body shape, wick moisture and have a hidden zip pocket to boot.
Lightweight Pack Out Crops – Women's
In terms of comfort, it's hard not to love pretty much everything Patagonia puts out, and these Centred Tights are no exception. They are compression-fitted, feature flatlock seams, and are Fair-Trade Certified-Sewn.
Compressive High-Rise 28.5 In Legging – Women's
While the four-way stretch fabric provides great freedom of movement, these leggings by Girlfriend Collective are also compressive and high-rise, keeping everything its place. They're also made with recycled fabrics and offer protection from ultraviolet rays.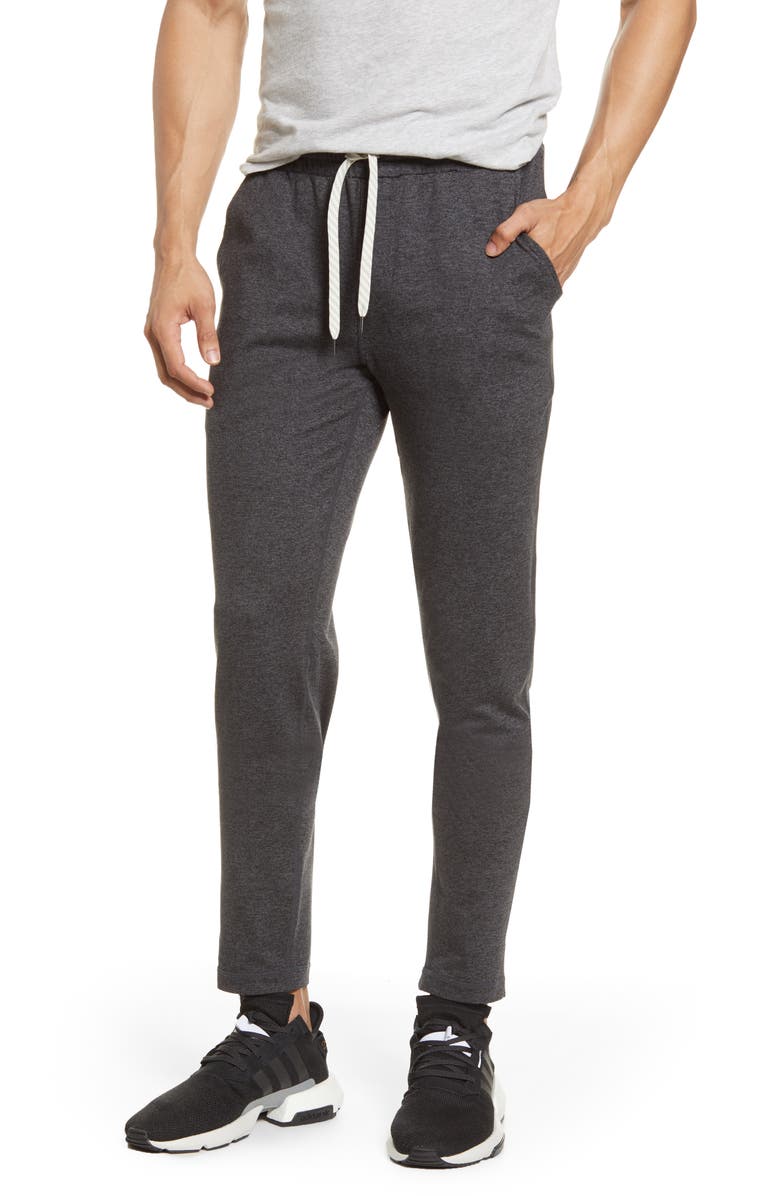 Ponto Performance Pants – Men's
These soft pants by Vuori come in a modern fit so comfy and stretchy, you may never take them off. Bonus—a back zip pocket keeps things secure during your session.
Vuori brings the Kore short with a lining that fights odour and wicks moisture away so well, your Pilates session might just go commando.
THE BEST YOGA PANTS OF 2022
Need a little more inspiration when choosing your yoga pants? Our yogis have prepared a summary of the best yoga pants for women and men.
Again, comfort and freedom of movement are musts for any yoga top. Most yogis prefer tops that fit snugly, to avoid experiencing downward dog poses from the inside of a shirt that slipped over their heads. And it's also relevant for men's yoga tops. Here are some of our faves.
The Energy Top by Vuori gives freedom of movement, layers like a dream, and can be worn out of the studio as well.
Juno Sports Bra – Women's
Support, stretch, a mesh lining, removable cups—every element is streamlined for essential comfort and freedom of movement in Vuori's Juno sports bra.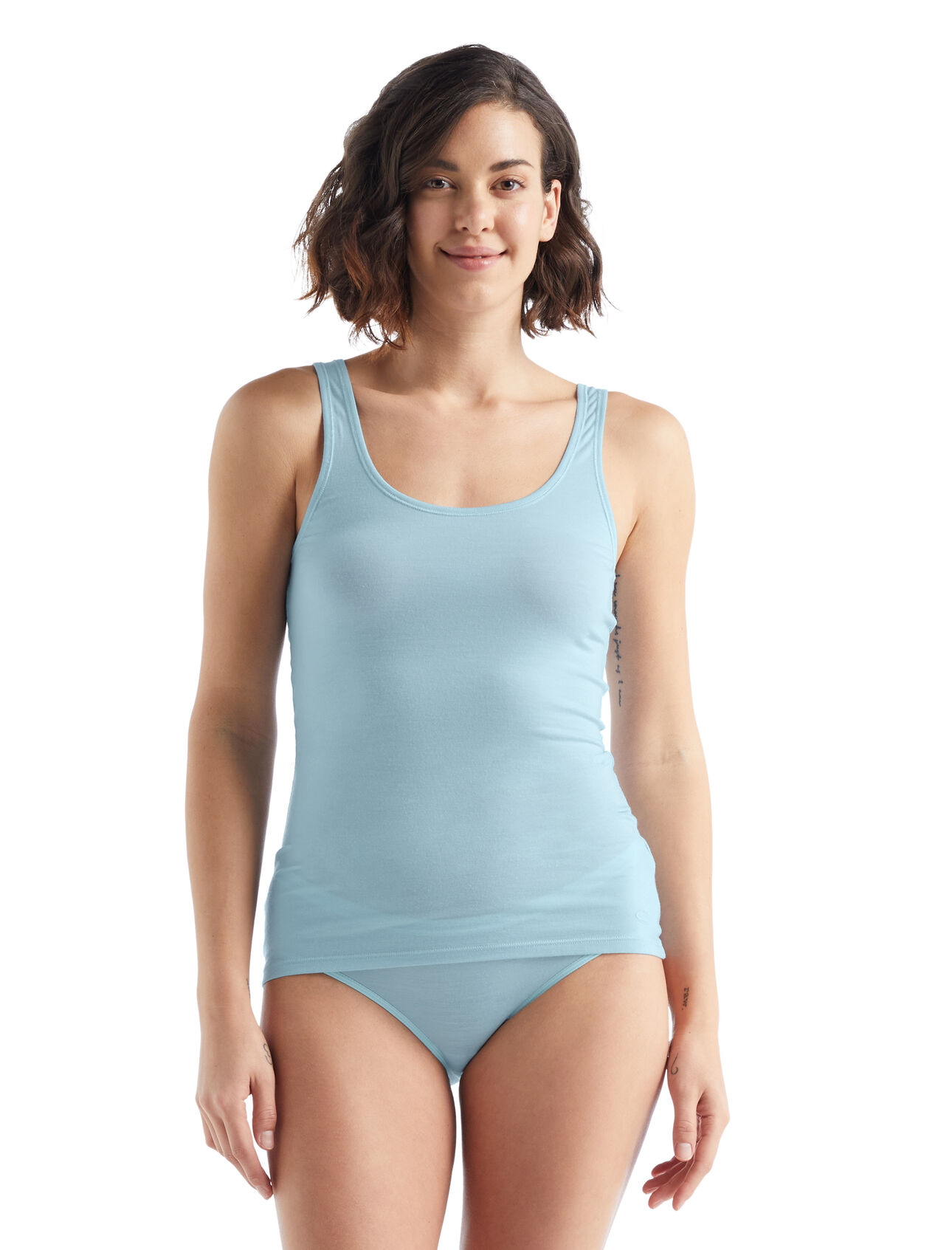 How about a touch of merino for your session? icebreaker creates comfort and unbeatable performance with the merino wool-nylon-Lycra blend tank.
Tradewind Performance Tee – Men's
Vuori has a t-shirt for all occasions, and the comfort and range of movement scream (or speak softly to) yoga sessions. The armholes are dropped to get the arms free, and the lightweight sueded jersey fabric is made for 'more than asanas'.
Not for hot yoga, but perfect for everything else, this Vuori tee is soft, stretchy, sustainable, and the seams are flatlock, eliminating chafing.
4. A few yoga accessories
Although not essential, yoga accessories can not only make your practice more enjoyable, but can also add a zen and 'yogi' touch to your yoga corner.
From a cork block to help you adjust during certain poses, to a blanket to keep you warm during Savasana (the meditation/relaxation period at the end of a session), we bet that one of these accessories will soon find its place in your yoga practice.
We can still find ways to stay mentally and physically fit when we can't always get outside. Yoga is a great way to do this and is easy to practice at home. We hope you are staying well and wish you a great practice! Namaste.