There is something so unique and special about spring weddings that have always managed to sweep us off our feet! From the warm weather wedding details that are soaked in bright rays of the sunshine to the gorgeous garden-inspired wedding details immersed in the marvels of nature. It goes without saying that the season of welcoming changes brings many sweet surprises. For instance, imagine getting married amidst stunning fairy-tale-like lavender wedding details while wearing a princess gown with a romantic floral bridal hairstyle completed with a bohemian flower crown. Isn't it dreamy?
We associate the spring season with pastel wedding color palettes, thinking pinks, purples, whites, and baby blues, as well as lovely blooms, both of which are ideal for rustic and glam wedding décor details. No springtime wedding décor is complete without an abundance of pretty pastel blooms. It is true that all the amazing wedding flower trends come alive during the spring season when the prettiest flowers are in bloom adorning the vibrant flower beds of mother earth. So while choosing your wedding color palette and spring floral arrangements, our general advice would be to get inspired by this dreamy season itself.
So, what makes us think about spring weddings? It is the blooming florals ranging in different color palettes translating into gorgeous spring flower arrangements. While you can add striking spring wedding flower arrangements to every element of your big day from the reception tables and wedding cake to the wedding altar and cocktail garnishing, there are many couples who would want to experiment with their wedding flower choices and opt for roses alternative in their of spring wedding floral arrangements. There are many alternative roses flower arrangement options for spring weddings that are equally gorgeous as springtime brides are blessed with tons of beautiful in-season blooms to choose from. Since it is the season of blossoming florals, embrace the in-season blooms like daffodils, hyacinths, tulips, peonies, tulips, calla lilies, hydrangeas, sweet peas, and ranunculus. You can arrange these flowers in various arrangements with common spring flowers like baby's breath arrangements and cascading greenery according to your wedding aesthetics.
Prettiest springtime wedding flowers that are not roses:
Daffodils are the spring wedding flower that everyone associates with the season. Daffodil blooms, an easy-to-grow, and inexpensive spring bulb look great in mixed spring bridal bouquets and casual wedding flower arrangements. The trumpet-shaped blooms, which are available from February to May, would look lovely in a variety of bud vases on your spring reception tablespaces. Daffodils come in white, yellow, coral, and orange shades and can be single or double hued. If you're going to use daffodils from your garden to make DIY flower arrangements, keep the flowers separate from the rest of the flowers. Narcissus flowers have sap that leaks from the stem and can clog the stems of other flowers, causing them to wilt. This sap leakage can be avoided entirely by binding daffodils in floral foam.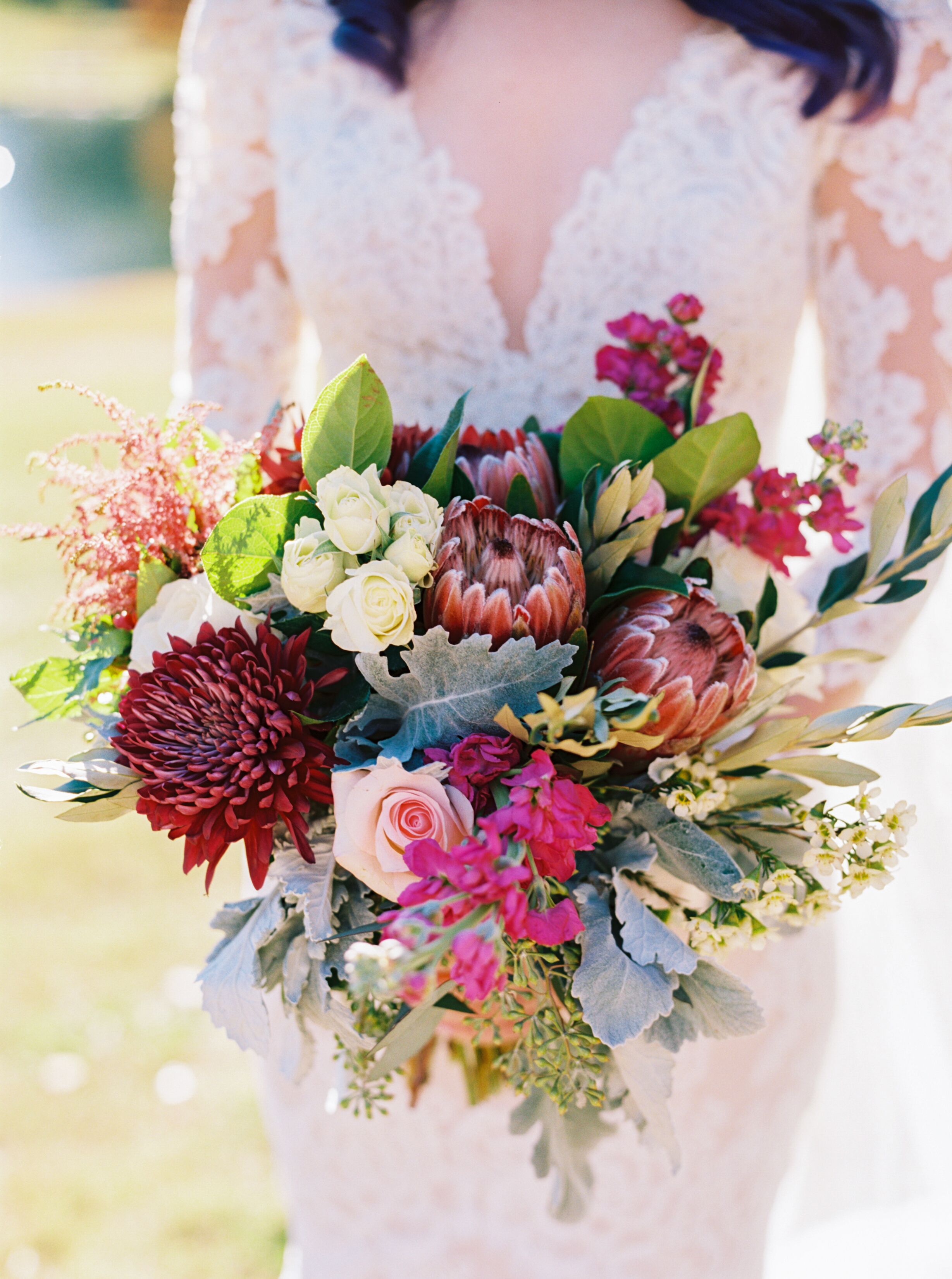 Snapdragons are great for bohemian spring weddings as they are whimsical and come in upwards of 60 different colors. Snapdragons look sculptural on their own when used in single floral arrangements or used sparingly with mixed blooms. These are on the lower end of the price scale. They also have a similar appearance to stock or foxgloves and bloom on a long stem, making them ideal for dramatic aisle decorations and centerpieces. The early spring wedding flowers come in a range of colors, from red and orange to white and pink, and can be used with greenery wedding flower arrangements.
Wisteria flowers are a natural choice for cascading bridal bouquets and gorgeous flower crowns for every bridal style because of their draping habit. A large blooming portion of one of these dynamic vines in a garden could be used as an arbor or gazebo decoration by brides who are lucky enough to have access to these spring flowers. The flowers are usually purple, but they can also be white and have a delicate scent. This purple flower looks best in cascading bridal bouquets or spring wedding arches where the flower can freely fall downward. This soft purple flower blooms early in the month of May.
Carnations are a budget spring wedding flower option, making them an excellent choice for large-scale installations such as wedding ceremony arches. When used in large floral mixes, these lovely spring flowers can deliver a powerful punch for a low price (for instance in a statement-making reception hanging installation). You'll be fine as long as you avoid the bodega-style carnations, which are dyed a rainbow of unnatural colors. For a truly modern touch, opt for the dusty and muted variety.
Forsythia is a yellow flowering branch that can add drama and texture to spring flower arrangements. The vibrant botanical blooms from late March to mid-April, with a relatively short growing season. Forsythia bushes produce clusters of bright yellow flowers that stand upright in a vase or jar. Because the spring flowers appear before the leaves, there will be no greenery to distract from the bright flowers. Instead of being used in spring wedding bouquets, forsythia stems are better used in large ceremonies or reception arrangements.
In the shade garden, lily-of-the-valley plants have a tendency to take over, which is a good thing if you want to harvest a lot of stems of this sometimes-expensive spring wedding flower. Lily of the valley, a favorite of the British royal family, is an excellent choice for formal and high-end weddings. This delicate little bloom isn't just for royal bouquets; it also works well in small and low centrepieces. These tiny spring flowers are only available in white. While orchids and calla lily blooms are excellent choices for winter weddings, lily of the valley is the best choice for spring couples looking for a formal and classic flower for their wedding floral arrangements. These waxy flowers, also known as "Our Lady's Tears," have a strong fragrance for their size and are highly prized in luxurious spring wedding arrangements. Lily-of-the-valley flowers would be lost in a large arrangement, so florists use the white or pink blooms as fillers in most arrangements.
What's not to love about the soft pastel purple-hued lilacs? From mid to late spring, northern states have the best selection of lilacs. Lilac flowers are fragrant blooms that appear in sprays of tiny blossoms in purple, red, and white shades. The flowers have a long history as a favorite Victorian wedding flower and are ideal for weddings with a vintage theme. Lilac flower clusters add mass and texture to large spring floral arrangements and wedding bouquets. These romantic and sweet-smelling blooms, often seen in lavender shades but also available in white, feel fresh-from-the-field and super springy when paired with greenery and tied into a bouquet with a loose silk ribbon. Clematis is a purple wedding flower option that is primarily available during the summer months but may be available for a late-spring wedding.
Sweet pea is a delicate spring flower that must be used with care, but it is a beautiful addition to any spring wedding flower arrangement. Sweet peas are delicate and ruffled, and they have a lovely sweet and perfume scent. The iconic wedding flower is also available in the spring and summer, making it a popular choice among many upcoming spring weddings in 2022. They have a huge variety of colors, in fact, they have one of the most diverse color palettes in the plant kingdom! However, they aren't the most affordable wedding flowers (some of the more rare varieties can be quite costly), but they aren't nearly as costly as, say, a peony or a lily of the valley!
Tulips, like daffodils, are a classic spring bloom with a distinctive shape and vibrant colors. Fringe tulips are a trendy variety that is gaining popularity among florists and soon-to-be newlyweds. We love tulips of all kinds like the fringed, parrot, double, and French tulips! Each type of tulip has its own style and feel. Moreover, tulips are available in a wide range of colors, making them an amazing choice for flexible wedding color palettes in springtime.
Poppies are beautiful spring flower options, but because they are delicate, they should be used sparingly alongside more strong and firm flowers. If the Easter egg hues of many spring flowers don't appeal to you, ask your florist to include poppies in your wedding arrangements. In a monochromatic bouquet, the red blossoms with black centers make a strong wedding flower statement. Poppies are generally available from late spring to early summer in USDA Hardiness Zones 3-8.
Because many of these seasonal flowers are known for their fragrance and pastel colors, spring weddings are an opportunity to highlight the feminine side of floral arrangements. With the variety of forms and textures available, florists can go contemporary or vintage with these flowers. When it comes to styling your wedding on a budget, an amazing choice of wedding flowers is one of the most reliable ways to save money and get more bang for your buck. You can have your florist only use flowers and greenery that are in season. Using out-of-season flowers necessitates the importation of flowers, which significantly increases the cost. Plus, if you get blooms from a hothouse, they won't be as lovely. For this season of renewal, romantic pastels like baby pink and powder blue are always a good choice but don't be afraid to add bold pops and flirty floral colors in springtime weddings for contrast like fuchsia, coral, orange, and purple.