Down jackets are an excellent way to stay warm or cold, frosty mornings. This guide will review the best down-filled, weather-resistant, and lightweight jackets on the market this Winter.
When temperatures start to drop, you'll want to have the proper apparel ready. Canadian winters can mean sub-zero temperatures, gusts of freezing wind, and deep, cold snow. If you live in a city, you can't always avoid the elements. Purchasing the best winter jacket will help you prepare for the most frigid weather conditions, but choosing one of the best down jackets offers versatility if you think light and easy mobility.
We've rounded up and reviewed the best down jackets on the market and evaluated them for warmth, fit, lightness, and more. Our top choice is the Mammut Eigerjoch Advanced In Hooded Jacket due to its weight-to-warmth ratio, weather resistance, and smart blend of insulation.
Stay warm without getting weighed down with the Mammut Eigerjoch Advanced. This insulated jacket is filled with a blend of water-repellent goose down on your upper arms and core, and Primaloft Gold synthetic down on high-perspiration areas like the armpits and back. The high-quality Pertex® Quantum outer material is abrasion-resistant and water-repellent. This technical jacket is perfect to wear either as a mid-layer or outer shell.
THE BEST ALTERNATIVES TO THE ARC'TERYX CERIUM LT HOODY
The Cerium LT puff jacket is out-of-stock or its price point is hitching you? Discover a few great similar alternatives.
With 800-fill-power Advanced Global Traceable Down, the Patagonia Down Sweater Jacket is an ethical option that you can feel good wearing. If you spend a lot of time outside and need to keep warm, this jacket is a great piece of gear. The outer shell is made of durable recycled ripstop nylon and coated with DWR, which does a good job of repelling snow.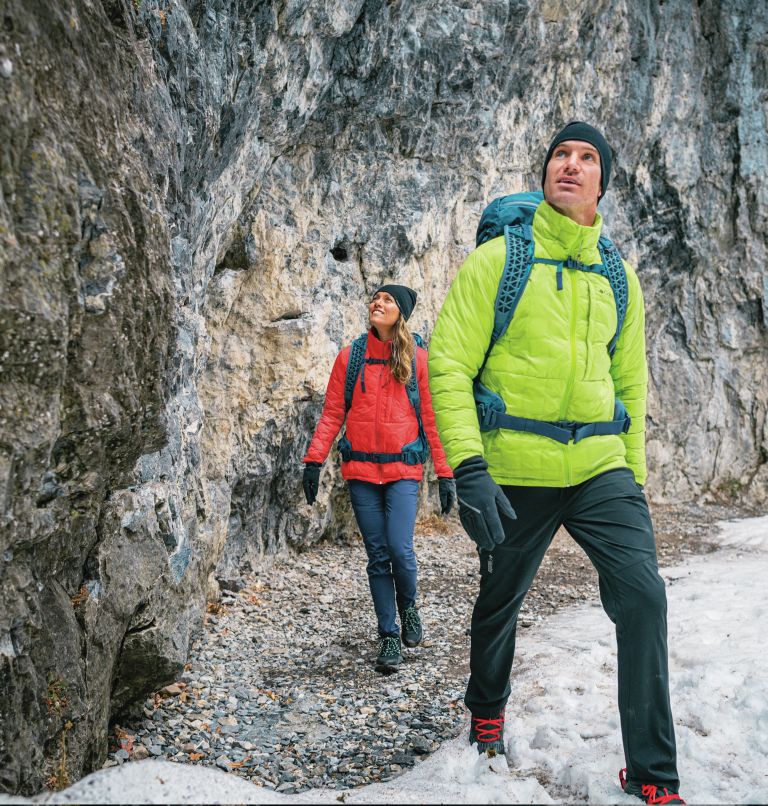 Price is a significant advantage for Columbia's Titan Pass Double Wall Hybrid Jacket. It has many technical features such as Omni-Heat technology and water resistance at a fraction of the cost of other down jackets. The Omni-Heat synthetic down is perfect for keeping cozy in the early winter. The double-wall construction also ensures your body heat is kept inside, while the polyester fabric keeps moisture out.
Our top performance down jacket, the Mountain Hardwear Ghost Whisperer 2 Hoody, solves many of the problems of your previous athletic gear. The thick baffles contain the 800 fill Responsible Down Standard (RDS) down with outstanding loft. The elastic in the wrists and the few seams trap in heat well. The material is also very flexible and packable thanks to the stretch-baffle construction.
MOUNTAIN HARDWEAR | JACKET
With a unique, boxy puffer look, the North Face 1996 Retro Nuptse Jacket allows you to look cool and stay warm. The deep, large baffles are stuffed with 700-fill goose down insulation, and the outer shell is made of shiny, tough ripstop fabric. Despite its boxy look, it's quite compact and can be stuffed into its pocket. Combined with its stowable hood, we think it's one of the best down jackets for men.
The sleek and polished Quartz Co. Labrador Down Jacket looks as good as it feels. With the 650-fill-power white-duck down enclosed by a DWR-treated shell, the jacket blocks out snow, wind and rain. It's made more for urban use and fits well over a suit or other office wear. The quality is top-notch, and the deep fleece-lined pockets provide extra warmth.
With its asymmetrical zipper and oversized hood, the SOIA & KYO Karelle Lightweight Down Coat will exceed your expectations for an urban coat. The extra length makes it more of a parka than a jacket, which means you can wear into well in the cold months of winter. The lightweight 700+ fill duck down keeps you warm while you transition from the car, to the subway, to the mall or work.
If you're looking for an all-purpose winter down jacket, the Rab Microlight Alpine Jacket is a great choice.  The 30D Pertex® Quantum ripstop nylon outer fabric is abrasion resistant, soft, and packable. The 700-fill-power synthetic down is recycled and hydrophobic as well. The adjustable hood and harness-compatible pockets make it ideal for the mountain or everyday casual use. Made by Canadians, for Canadians, the Canada Goose Armstrong Hoody will get you through harsh winter conditions. The 750-fill-power down is made from Hutterite White Duck, and it's rated for temperatures as low as -15° C. The outer material is elegant and lightweight, and high-abrasion areas are reinforced with Cordura fabric. Plus, it stuffs down into the left pocket for easy carrying.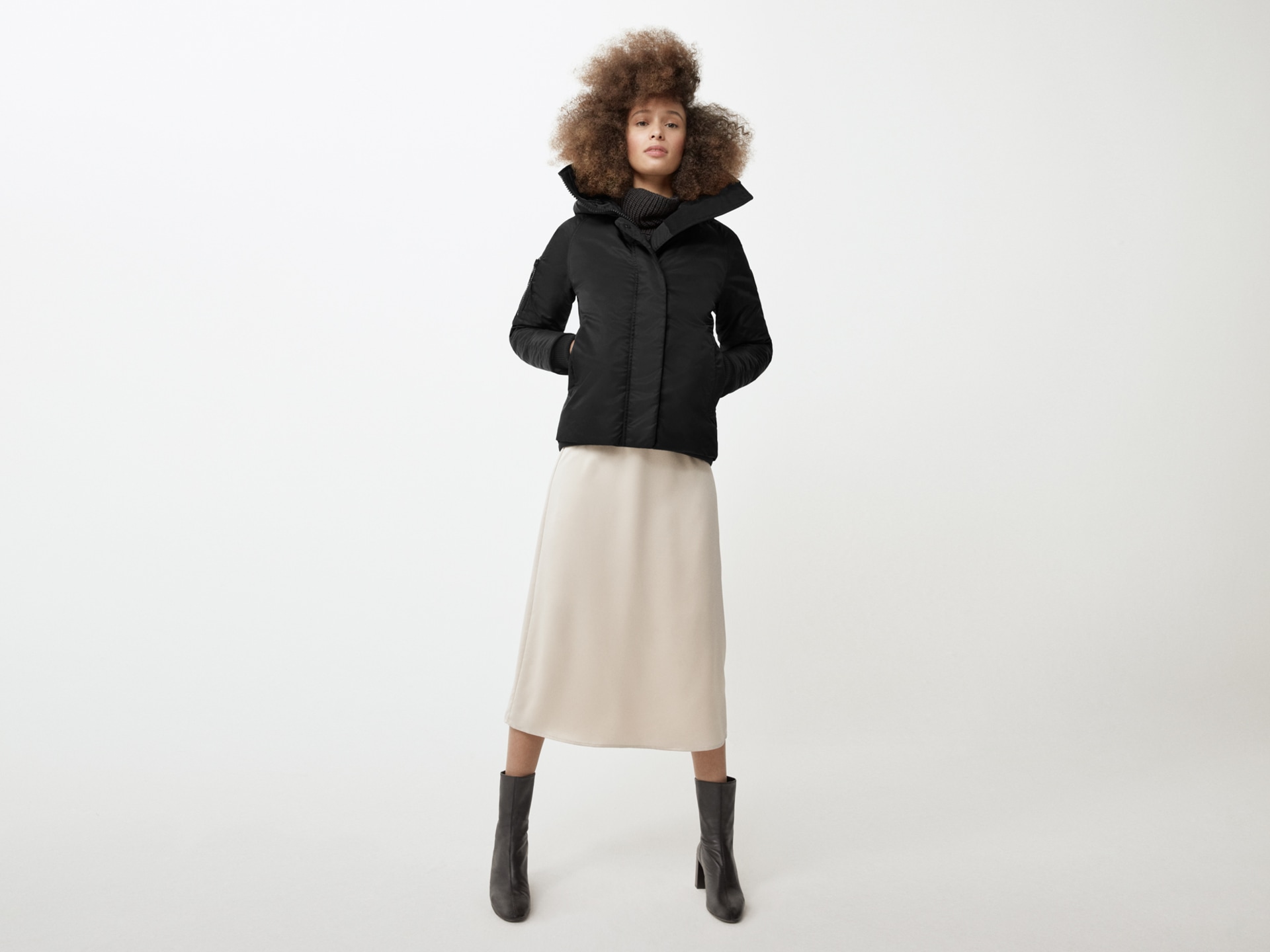 With soft, lofty duck-down feathers, you'll want to have the Canada Goose Everleigh Bomber Jacket to keep you warm this winter. The 625-fill-power is encapsulated by a reliable ripstop nylon shell. It's the ideal outer layer for backcountry adventures given the down-filled hood, suede chin guard, and storm flap.
For a flattering, warm, and lightweight jacket, consider the Soia & Kyo Belina-Es Hooded Down Jacket. It has a nice-fitting removable hood, durable YKK zipper, and flattering high-low hemline. It's water-resistant, insulated, and perfect for running errands around town. Plus, it comes in sizes ranging from extra-extra small to large.
As one of the most versatile down jackets on our list, the Black Diamond Access Down Hoody has many impressive features. The 700-fill-power insulated baffles on the inside of the jacket are made from Hyper DRY down. This makes the jacket very packable and light, which is ideal for a mid-layer insulator you can wear when the weather starts to get chilly.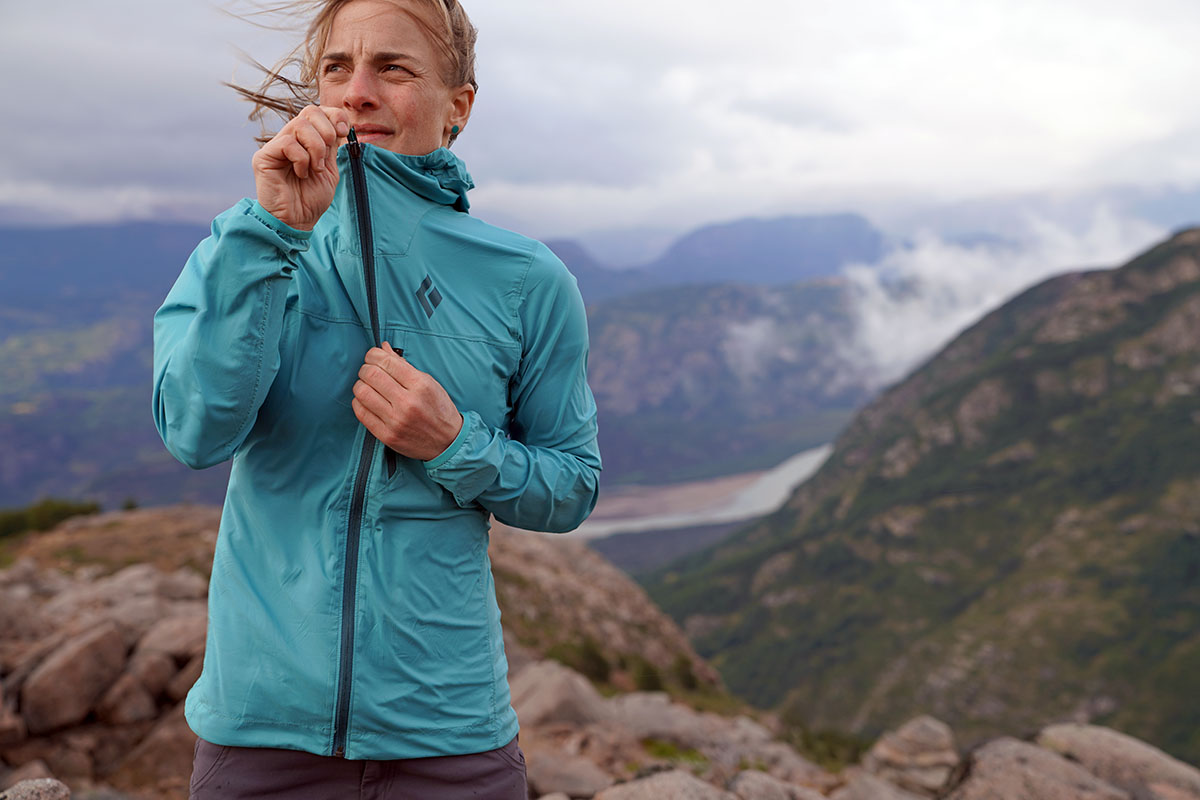 First, consider how you will use your down jacket. If it's going to be used as a mid-layer with a hard shell or soft shell on it, it shouldn't have a hood. Jackets without a hood seal up much better around the neck, so they're more thermally efficient.
For warmth, a drawcord in the hem is useful so that the heat doesn't escape. Baffles are the pockets of space between the layers of fabric which stabilize the down insulation. They keep the overall size of the coat down and give them better compressibility. The optimal baffle size for thermal efficiency is around 4 cm.
When looking for a down jacket, you want a jacket with high fill power that's lightweight and easy to pack. We found the best down jacket for men and women in terms of weather resistance, warmth, and weight to be the Mammut Eigerjoch Advanced in Hooded Jacket. We love down jackets that will keep you warm, shed off moisture, and last for seasons to come like the ones in this review.