We don't just put on pants. We rely on them. The best women's jeans are more than simply a need. An everyday essential that serves as an adaptable basis for all of our best fashion combinations.
However, the simplicity of jeans is deceptive—the fact that the top denim companies for women are aware of. Denim companies have given these comfy, sturdy, and flexible classics a new look. They've reinvented and revitalised an old fashion favourite, creating jeans that are more of a supporting act to the rest of our ensemble than the star of the show.
The greatest women's jeans companies are here to prove that you can wear jeans everywhere and at any time—from the catwalk to the sidewalk, the boardroom, brunch, or the bar. There's a broad range of designs to choose from, including low-rise, high-rise, throwback wide-legs, classic skinny jeans, slouchy boyfriend styles, and cheeky cropped cuts.
The top jean brands for women are comfortable, trendy, and figure-flattering denim that can follow you through life's ups and downs. Our list contains everything from the top designer denim labels to the finest budget jeans brands and everything in between, from legendary household names to the new kids on the denim block.
The Best Jeans Brands 2022
No list of the top denim brands would be complete without discussing Levi's. Levi's is credited with inventing jeans. They've been producing denim since the 1870s, and the renowned Levi 501 Jeans first appeared in the 1890s. While cowboys and loggers previously only wore them, they are now a must-have item in any modern woman's wardrobe—and are widely regarded as the greatest jeans in the world.
For one thing, the quality is unparalleled. There's a reason every thrift store is crammed with Levi's. These jeans are never going to go apart.
And there is a plethora of styles to pick from. There's a pair of Levi's for everyone, whether you want vintage 501s, the Ribcage jeans—the highest of high rises and a best-seller—the very slim cut, or a pair from the brand's premium line, Levi's: Made & Crafted.
Levi's instantly conjures up an image of old-school Americana cool—even if you're just as likely to see them on the front row of London Fashion Week as you are out in the Wild West these days.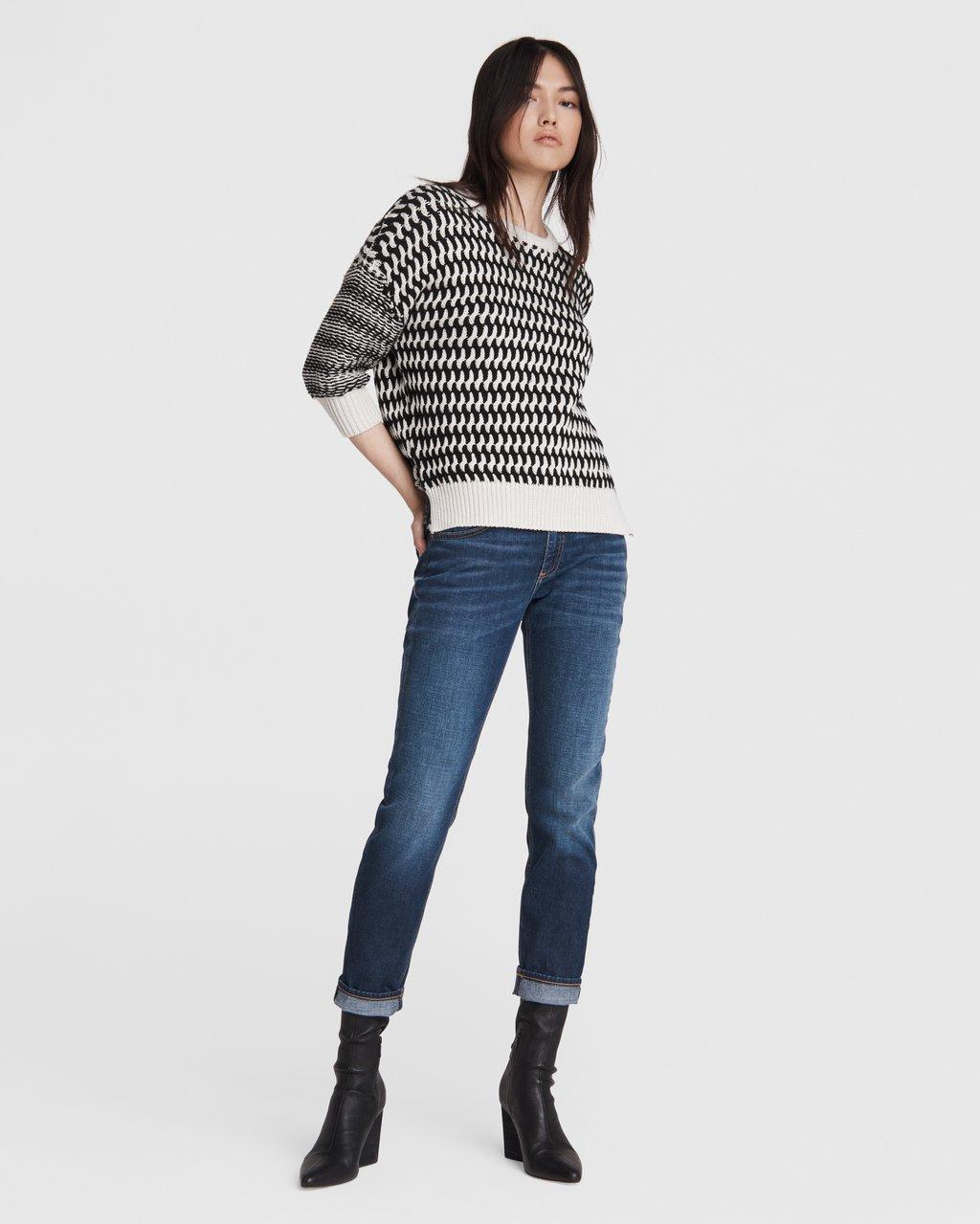 Rag & Bone is the undisputed cool child of jean labels. The Rag & Bone attitude is about excellent quality with a gritty and down-to-earth style, bringing traditional English tailoring to classic American casual wear.
When it comes to denim, there is a considerable difference between good and exceptional quality. When you put on your first pair of Rag & Bone jeans, you'll understand. It's clear from both the exterior and the inside that they are some of the best-fitting jeans available.
Rag & Bone designs, mainly constructed of non-stretch denim, ranging from the trendy (denim track trousers, for example) to the classic. The washes are understated and neutral, making them quite adaptable and wearable. Meanwhile, the styles are universally attractive, and the jeans all have that desirable worn-in look.
Rag & Bone jeans are designer jeans. Thus they are not inexpensive. But, honestly, once you're racing about town in any of their lovely denim choices, you'll forget about the price tag.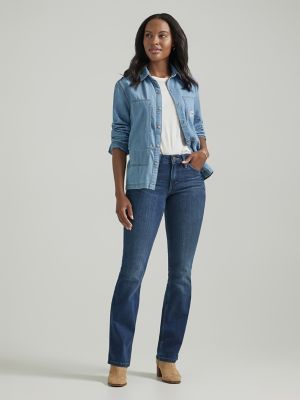 If you enjoy your jeans with a bit of history, you'll like the fact that Lee was founded in 1889. That's more than a century of experience. They were also the first to create a one-piece coverall.
And, while we prefer jeans over overalls, we can appreciate the down-to-earth attitude. Keep an eye out for the iconic Lee spade pocket. Specifically developed to sculpt and define your behind.
We particularly appreciate Lee bootcut jeans because of their classic cut and beautiful mid-rise fit, making them both comfortable and timeless. Combine with a shirt for the office or a casual t-shirt and walking shoes for weekend adventures.
The Lee High Rise Skinny is another option. Slim and stylish, with a modest elasticity to let you move through your day with comfort.
Lee jeans may also tolerate every day wear and regular washing. Lee recognises that the greatest women's jeans are made to be worn again. Oh, and did we disclose it's one of the cheapest brands of women's jeans?
Acne Studios creates some of the greatest women's jeans and unique denim. What would you expect from a Scandinavian design firm?
Initially, the company produced only jeans. Designs with straight legs and eye-catching, distinctive red stitching. Acne Studios now offers a full apparel line and flagship stores in cities ranging from Paris to Tokyo.
Plus, the label has a big fan base that flocks to it for its high-quality construction and inventive and fascinating designs, including some of the best thin jeans for women. Just throw on a white t-shirt, and you're ready to go.
There are also a few eye-catching motifs, such as patchwork detailing in soft pink and baby blue.
Acne Studios jeans, worn by Rihanna and Alexa Chung, are the pinnacle of inventive modern chic and should be at the top of your wishlist.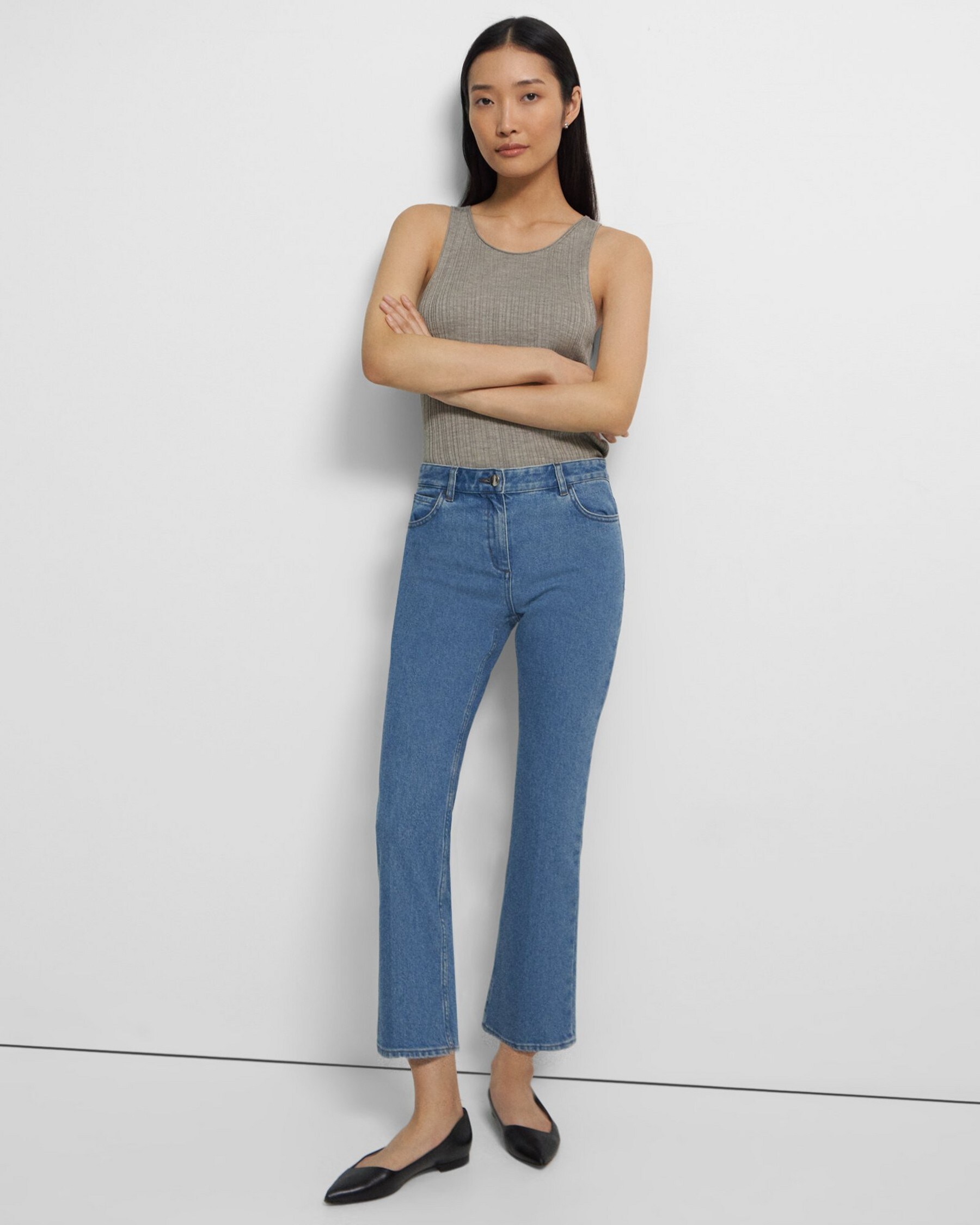 J-Brand is a women's jeans label with a simple mission: to manufacture beautiful pants that are also well-made. So, if you're hunting for a reliable and adaptable pair of jeans, J-Brand is a good place to start.
J-Brand manufactures some of the greatest women's jeans available, thanks to an instinctive grasp of materials, craftsmanship, and fit. The brand was also the first to introduce the slim silhouette, widely popular today and a must-have item in any woman's wardrobe.
From high-rise skinnies with frayed cuffs (wear with a bodysuit for a night out) to its custom-developed 'Photo Ready' denim, which is meant to lift and shape your figure. And go no farther than Dellah—skinny with an elastic waistband—for a pair of jeans that may alter your life.
J-Brand also produces some of the most flattering jeans for curvy ladies.
The 1970s were a decade that excelled at denim. This is why Frame, a leading jeans company, has drawn inspiration from this age of epic style to produce a range of jeans that conveys the free-spirited idealism of the hippy counter-culture to the 21st-century lady.
The Frame creates flares. We understand what you're thinking. However, they are contemporary flares—subtle, appealing, and ideal for the office. Take a look at the 'Le Palazzo' style, in particular. It would look great with espadrilles because of the wide-leg and high waist.
Even if you're not confident you can pull off this famous silhouette (which you most certainly can), there are plenty of alternative designs to select from, like the 'Skinny de Jeanne'—a best-seller and the ideal tight-but-not-suffocating skinny jean for women.
A-listers and Instagram influencers are among Frame's fans. All the proof you need is that this is one of the industry's coolest denim companies.
Looking for a pair of jeans that you can almost live in? Then Paige, a leading jean brand, has you covered. This California-based label's goal is to present you with timeless denim classics.
Paige is more of a lifestyle choice than a denim brand, with high-quality craftsmanship, meticulous attention to detail, flawless fit, and a charmingly laidback appearance.
Each piece is cleaned and wear-tested to ensure that it will endure. The nine embroidered bars on the back pocket of every pair of jeans represent nine lives, with the notion that you may always continue to develop, evolve, and attempt new things.
Jeans that inspire us to accomplish our best? That's great. Whether you pick for a basic t-shirt and jeans, look, or go all out with a denim-on-denim look, a pair of Paige jeans will get you through the day.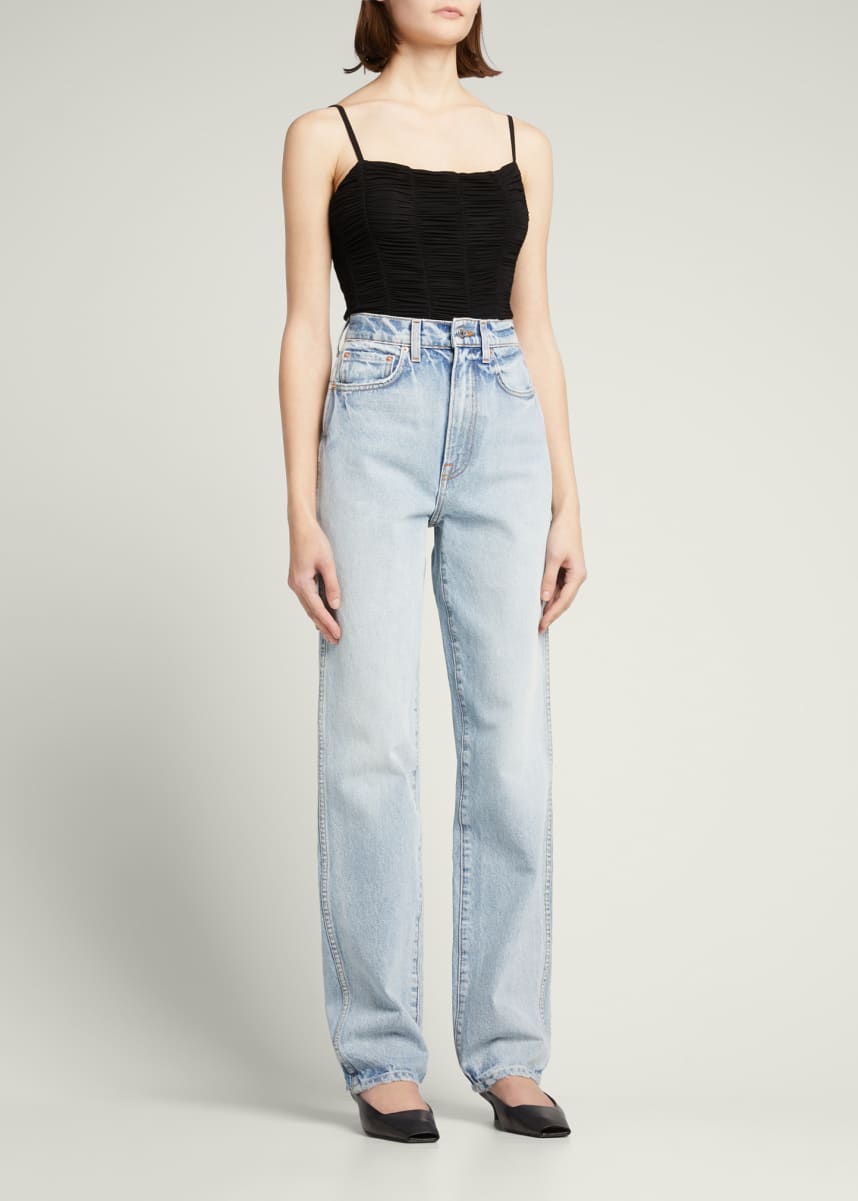 Denim was at its pinnacle in the 1990s. So thank heavens for labels like GOLDSIGN that bring us those iconic 90s shapes without all the extra 90s strangeness (yes, we're talking about strapless bras).
The LA-based label is all about pared-back denim designs with subtle but dramatic elements, making it one of the greatest jean labels for women. Kate Moss is a fan, which is all we need to know to buy a pair right now.
GOLDSIGN's collection includes everything from slim jeans to attractive high-rise styles to a cropped design ideal for summer days. We propose the Walcott jeans made of organic denim with a faded wash and whiskered for a genuine vintage look.
All GOLDSIGN jeans are handcrafted in small batches at the brand's studio. Not only does this imply that they pay great attention to quality, but it also means that you won't continuously be running into individuals wearing the same jeans as you.