It all began back in 1999 when Brad Baxter, Litter-Robot inventor, founder, and CEO, inherited two cats. Brad found out firsthand how inconvenient scooping is, and set out never to scoop the litter box again. Three generations and dozens of new products later, Whisker is the international leader in developing and building highly functional, easy-to-use products that keep you and your pets happy!
What The Litter-robot Is and How It Works?
In 2000, Auto Pets produced the first Litter-Robot—an innovative globe-shaped, rotating litter box that automatically sifts your cat's litter after each use. The latest edition of the Litter-Robot, called the Litter-Robot III with Connect, is a WiFi-enabled device that allows you to control and monitor cleanings via a smartphone app. With its glowing blue night light, distinctive design, quiet performance, and smart home-ready functionalities, this looks like the litter box of the future.
From product development to post-purchase support, Whisker's teams work together to continually exceed customer expectations. And with more than 600,000 pet parents supported, Litter-Robot is the highest-rated self-cleaning litter box on the market.
The engineers have refined the Litter-Robot from a cat box to a sophisticated appliance. The product specialists work to ensure that you'll get the best help, when you need it, during and after your warranty. And with the 90-day in-home trial and standard 18-month warranty, you can buy with confidence knowing you'll have our support.
Here's How You Get Started with The Litter-Robot
The Litter-Robot arrives fully assembled and ready for use. You'll just have to take the ridged rubber mat out of the globe and place it on the step, install a drawer liner, pour in the litter, then plug the Litter-Robot in. It's a big, noticeable installment in the home, measuring 30 x 25 x 27 inches and weighing 24 pounds. With its enormous footprint, the Litter-Robot may have a hard time fitting in your home. Before you take the plunge, confirm that you have enough open floor space to fit this behemoth. The Litter-Robot does best when positioned away from walls and corners—cramped spaces could limit its rotation.
Litter Robot with blue light
With its distinctive design and large size, the Litter-Robot is a dramatic addition to the home. At night, a blue light illuminates inside of the dome, giving it an even more dramatic appearance.
Which Kind of Litter Works Best in The Litter-Robot?
Before we talk about the Robot's automatic sifting performance, let's backtrack a little bit and talk about cat litter. While some automatic litter boxes—think the PetSafe ScoopFree—demand that you use a single, specific type of cat litter or come with their custom litter, the Litter-Robot gives you a few more options. The Litter-Robot works best with a hard-clumping litter, so whether you choose clay, clumping crystals, or a biodegradable product, you'll want something that creates firm, cohesive clumps. If you're not sure which litter to choose, visit the Litter-Robot store to explore their selection of litter intended for use in the Litter-Robot.
When I first got the Litter-Robot, I used a fine-grained, lightweight clumping clay, which resulted in a sticky, messy situation. Later, I tried Fresh Step, Tidy Cats 24/7 Performance, and Dr. Elsey's Ultra. All of these hard-clumping clay products worked well, creating firm clumps and allowing the Litter-Robot to do its job with minimal sticking.
I also tried the Litter-Robot with a couple of biodegradable litter products, including a grass-based litter and World's Best Litter, which is made from corn. Both had a bit more sticking than I'd prefer, fusing a bit to the rubber liner.
Regardless of which type of cat litter you choose, pouring it comes with some challenges. Large, heavy bags won't do well with the small opening and awkward angle of the Litter Robot's entryway, necessitating the use of a scoop to transfer litter from bag to bed.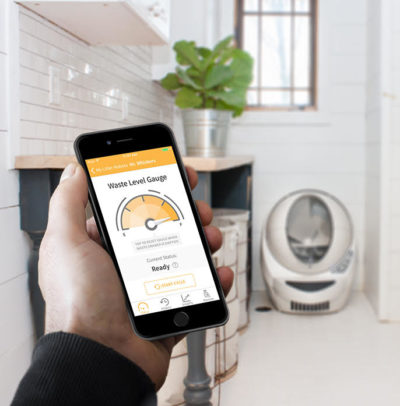 The Litter-Robot III Connect is compatible with a smartphone app, available for both iOS and Android devices. This app allows you to monitor your cat's litter box usage and control it remotely.
For an additional $50, you can upgrade to the WiFi-enabled Open Air III with Connect. The Litter-Robot app allows you to monitor the waste drawer and track your cat's litter box usage. It gives you a daily, weekly, and monthly analysis of your cat's litter box activity.
The Litter-Robot app also allows you to adjust all of your settings, like how long the Litter-Robot waits after use to start a cycle and whether or not you want to use the night light. You can set up a sleep mode, which prevents the Litter-Robot from cycling during an 8-hour period of your choice. It also allows you to manually start cleaning cycles remotely.
Because the Litter-Robot takes you out of the litter cleaning equation a bit, I think that the use monitoring functionality of the app is an important and valuable addition. It lets you monitor your cat's bathroom activity, which is a very important insight into your cat's health.
Unfortunately, I wasn't able to get much out of the app because Wessie wasn't using it and it wasn't detecting Forest. I could adjust my settings from the app and monitor the waste drawer, but I missed out on the usage tracking.
The Litter-Robot is among the most versatile and consistent automatic litter boxes you can buy. Its design gives you a lot of freedom in terms of which types of litter you can use and its sifting mechanism seems to work more reliably than that of virtually any other automatic litter box.
Because it's such a strong hands-off solution, the Litter-Robot and its hefty price tag are worth it for people who want to spend less time cleaning the litter box and are willing to pay for it. This investment could save you hundreds of hours. And thanks to the Litter-Robot app, it's one of the only automatic litter boxes that allows you to keep track of your cat's litter box activity, meaning that you're not losing touch with what's happening in your cat's bathroom.
It's a good choice for people who are busy or overwhelmed and need something they can rely on to keep the litter box clean without their help. It can also be a good choice for people with mobility issues or disabilities. You'll still have to take it apart and clean it every couple of months, but the hands-off operation can reduce the burden.