SAFE COOKING FOR A HEALTHY LIFE
Caraway Cookware was founded in 2018 by Jordan Nathan. The brand defines its mission as, "to craft well-designed, non-toxic ceramic cookware that thoughtfully raises the standards of what you cook with."
When heated to 500°F, traditional non-stick cookware (including Teflon) takes just 2.5 minutes to release toxic chemicals into the food we're cooking. By contrast, Caraway Cookware is specifically devised to emit no harmful substances into your food.
Designed and conceptualized in NYC, Caraway products are made in world-class factories in China and India that have strict ethical manufacturing practices. This extends to both the environmentally friendly manufacturing process itself, and the treatment of workers.
Caraway Cookware has reimagined the cooking process. With their easy-to-clean pots, no-fuss Caraway lid storage systems, and thoughtful design elements like wide grip handles, their cookware changes the way you cook, clean, and eat.
Caraway Cookware is made from ceramic with an aluminium core, and works on electric, gas, and induction stovetops.
Caraway Ceramic Cooking Pots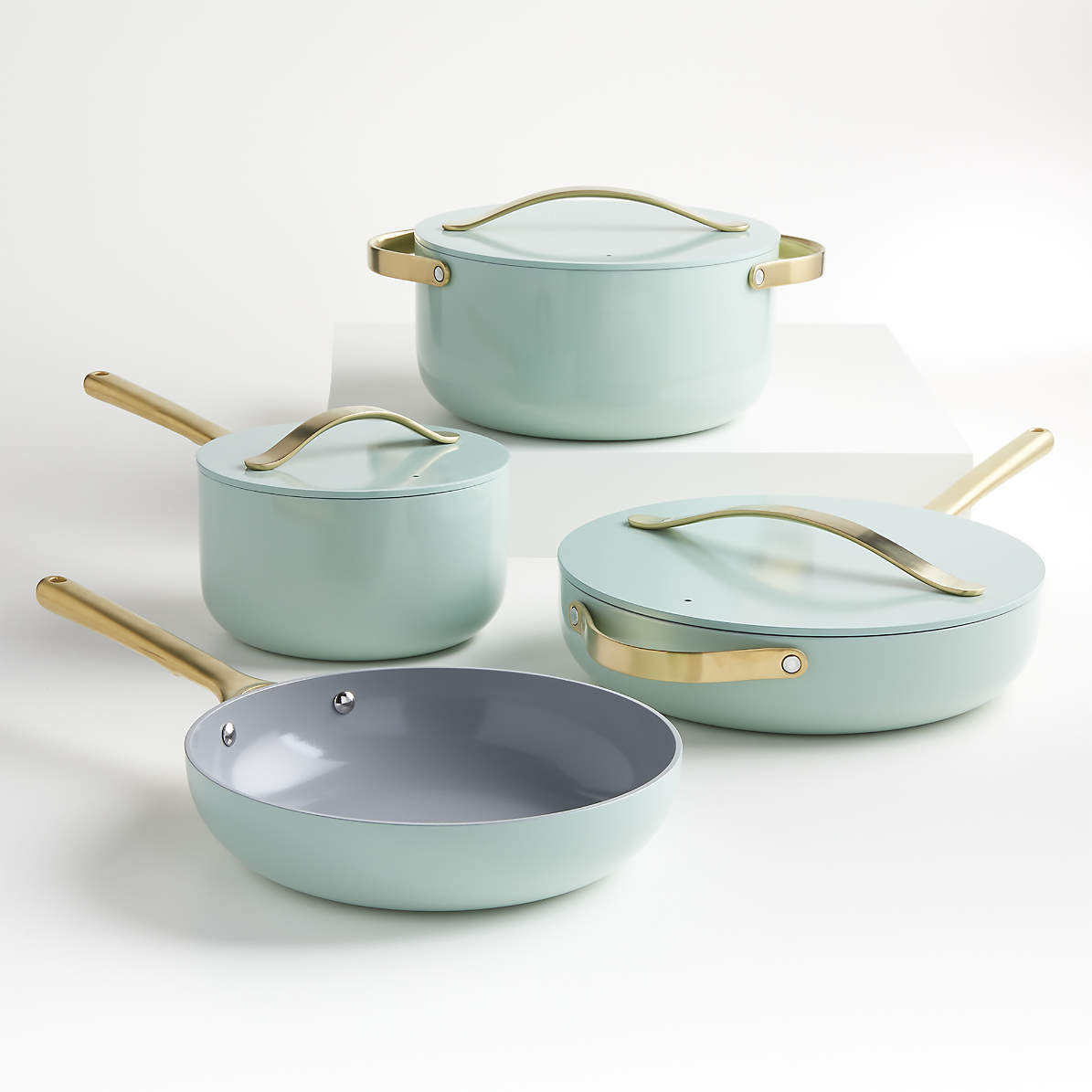 A welcome change from the traditional black or silver pan, Caraway pots and pans come in attractive neutral colors that make them as aesthetically pleasing as they are practical. They also include smart design elements intended to make your cooking experience easier and more enjoyable.
When it comes to clean-up, these pots truly are non-stick—any leftover food residue comes off easily. Below, you'll find Caraway Cookware's bestselling pots and pans that help you healthily and efficiently cook whatever meal your heart (or stomach) desires.
A good, tough Dutch oven is hard to come by. The best ones are often passed down from generation to generation for a reason—they just don't make them like they used to.  Your great-grandmother's pot was, of course, free of chemicals (because they didn't include them in pots back then) and indestructible (because it was made to last). That's what Caraway has achieved with their modern Dutch Oven, which conveniently comes with a lid. Hearty stews, four-hour roasts, fried chicken—you name it, and the Dutch Oven makes cooking it as easy as pie. It comes in your choice of five colors, but this Caraway Cookware review particularly adores it in sage: it's got a natural look that complements traditional white walls and cupboards.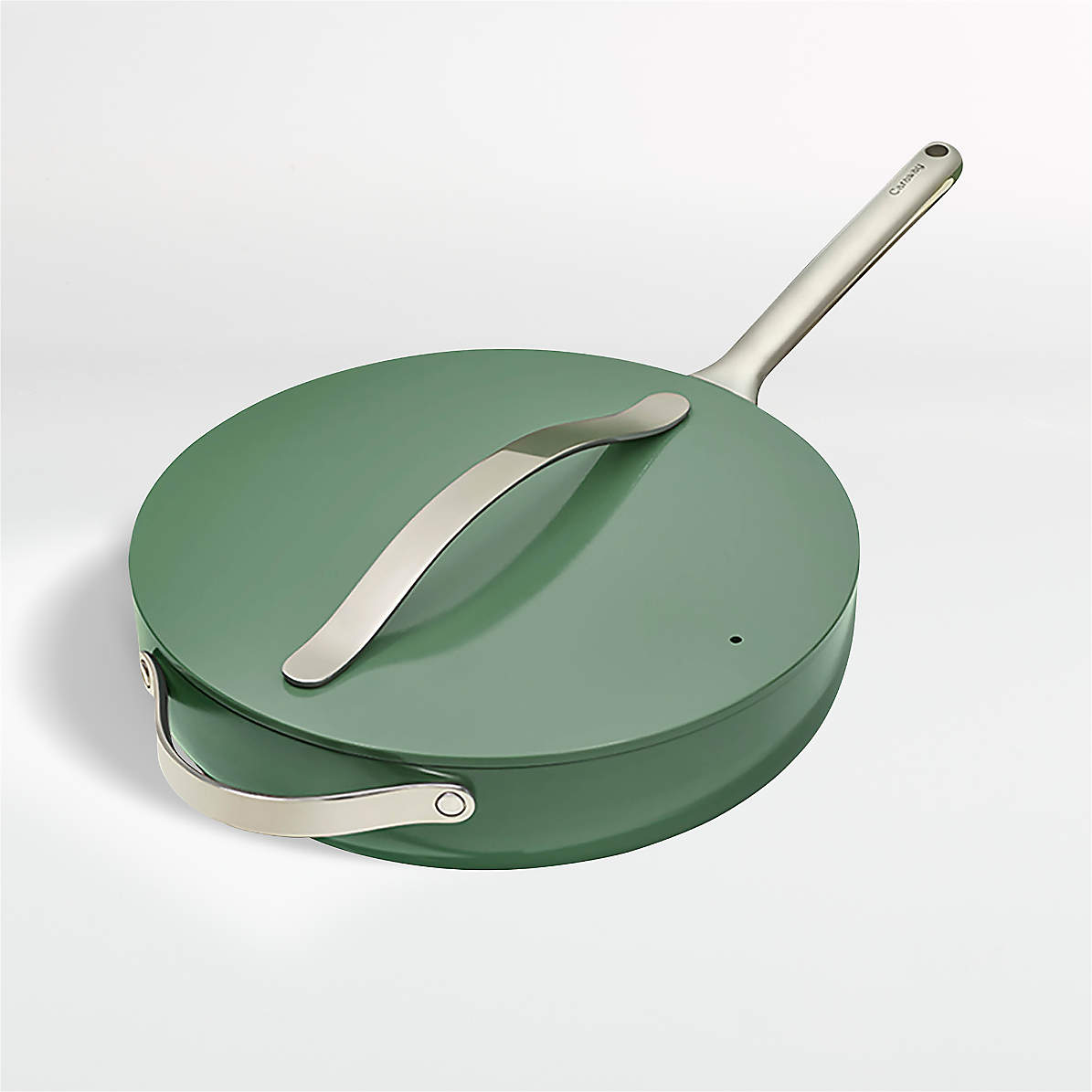 Deep and substantial, the Caraway large Sauté Pan minimizes messes on the stove and is ideal for cooking saucy meals. There's no plastic coating on the handle, so you can pop this baby in the oven to add the finishing touch to meals like stovetop mac and cheese.  Equipped with a lid, the Caraway saut pan is quite hefty, so it's perfect to use when cooking for your large and loving (but sometimes demanding) family.
Frying pans are a kitchen staple, and the Caraway Fry Pan is even lighter and easier to handle than the standard variety. Use it to flip pancakes impressively for your friends, or effortlessly toss sautéed veggies that, thanks to the non-stick surface, won't be stuck to the bottom.
Picture this Caraway frying pan in grey as part of a sleek monochrome kitchen theme, with marble countertops and a full, matching Caraway ceramic cookware set artistically displayed on the counter.
Sauce pans are great for any recipe that requires a lot of liquid, such as flavorful soups, tender pasta, perfectly poached eggs, or a mean risotto. With its three-quart capacity, the Caraway Sauce Plan can do all this and more—with the help of your (or the internet's) cooking expertise, of course.
This Caraway Cookware particularly likes the Sauce Pan in the dreamy cream color, but choose the shade that suits you and your kitchen best. The handy lid stops those messy red-sauce spills from happening, and the non-stick surface wipes clean with ease.
You've got the basics—and when we say basics, we mean high-quality, user-friendly cookware—so now what you need are the right tools to make your cook go as smoothly as possible.
Below, this Caraway Cookware review will give you an overview of the brand's bestselling kitchen accessories to keep you protected and help you nail the most important element of cooking—namely, the food.
Your meal is only as great as the ingredients you use to make it with—and how can you get those ingredients home without something to carry them in? Caraway's Market Tote not only gives you sturdy transport for your food items, but also reduces plastic waste thanks to its durable construction. Made from crochet organic cotton, the attractive Market Tote comes in sage, baby blue, and perracotta, and can easily be scrunched up or hung out on display as per your pleasure.
Cooking and baking can get kind of chaotic—the sauces, flours, and grease are all part of the process, but they can also ruin your clothes. Stay covered with the lightweight cotton Linen Apron, which has an adjustable neck strap for more comfortable wear. The Caraway Linen Apron has two deep front pockets that are great for stashing spoons, spices, or even your phone while you're making those frantic kitchen-to-barbecue dashes.
Ever pull a hot pan out of the oven with a kitchen towel, only to drop it—and your four-hour culinary creation—right on the floor due to the surprisingly intense heat that made it through to your hands? No? Well, we certainly have. That's why this Caraway Cookware review believes a good oven mitt is essential to have hanging around. Made from soft cotton, Caraway's Oven Mitts are double-layered, stain-resistant, and thickly insulated to keep your own mitts protected from those painful burns.
With their homey, vintage-inspired handwoven design, the Oven Mitts have a nostalgically old-fashioned look with all the advantages of modern construction. And if you do happen to drop something anyway (not the mitts' fault!), there are also Caraway tea towels available to keep things clean and tidy while you cook.
Although Caraway Cookware pans are pricey, the majority of customers believe that they are different from any other pan that they've used and are worth the money. Caraway Cookware sets are $395 for four pots and pans, but if you have them for years, that price makes sense instead of buying two or three sets of plans for half of that price. Some customers experienced flaws such as damage to the outside and inside of the pans. While these pans are tough, you have to remember that they are not indestructible. As this Caraway Cookware review noted above, if you want to get the most out of these pans, you'll need to take care of them properly.
This Caraway Cookware review also appreciates the fact that the Caraway ceramic pots and pans set does not contain toxic chemicals, and that their packaging is made from recycled and biodegradable materials.
As for the company itself, they partner with ethical manufacturing facilities and have great customer service. For these reasons this Caraway Cookware review believes the brand's cookware is worth the buy.